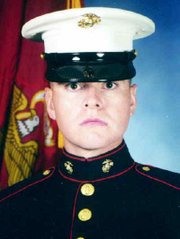 SAN DIEGO, CALIF. - Sunnyside's Scott Carlson was 22 years old when he decided it was time to gather his things together and enlist in the Marine Corps.
"It's the best branch of the service, we all know that," Carlson laughed when asked why he chose to join the Marines. "I always wanted to be a marine. I thought it was the coolest thing," he added.
Carlson went on to serve four years of active duty with the Marine Corps. During his time in that branch of the military he attended boot camp in San Diego, was stationed in Baltimore for 10 months, Arizona for a year and a half and then spent time in Central America, where he helped build schools.
However, when Carlson left the Marines in September 2002, his love of the military wouldn't allow him to simply sit back and relax for awhile. Instead, the 1995 Sunnyside High School graduate, seeing the country was going to war, decided he wanted to help. He said he started calling the Marine Corps., asking if he could rejoin and head to the Middle East. In the end, Carlson said the paperwork was taking too long to process.
Instead, Carlson called the Coast Guard, asking them if they would deploy him if he joined.
"They decided to take me," he said.
It was through the Coast Guard that Carlson spent more than a year in the Middle East, in a boat in the northern Arabian Gulf. He explained that he was part of a group that was in charge of guarding two off shore oil platforms, which are steel structures more than 3/4 of a mile long. He said guarding the structures was interesting because most of the time he couldn't see land from where he was stationed.
It wasn't until August 2003 that Carlson came back to the United States, and it was this spring that he decided he wanted to leave the Coast Guard.
But, once again, Carlson couldn't stay away from the military for long. He is now a member of the Army National Guard. He said he decided to join the National Guard because he was living in Olympia at the time and knew there was a good infantry unit in the area.
Carlson noted that it wasn't long after he joined the National Guard that he was offered a job as a Homeland Security consultant in San Diego. Carlson has been living in California since the middle of May.
"The military helped me get this position," Carlson noted, explaining that his experience really helped.
Carlson said despite just starting a new job, he recently learned that he will be leaving for Iraq soon. He couldn't detail exactly when he is expecting to leave.
However, before Carlson is deployed, he plans on marrying his girlfriend, Candace Jackson of Mabton. The two are set to marry today (Friday) in California.