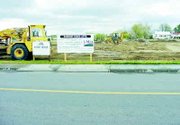 Although the United States Department of Agriculture (USDA) Rural Development office shares a logo with the branch of the USDA that deals with things like setting agriculture regulations and overseeing meat inspections, that isn't what rural development is all about.
Phil Eggman, public information officer for USDA Rural Development, noted that the mission of the rural development arm of the USDA is to help ensure that rural areas and communities that support agriculture continue to prosper and grow.
"We really do help people," Eggman said.
The state USDA Rural Development agency has pumped millions of dollars into various projects that are aimed at supporting rural America. Eggman pointed out that USDA Rural Development has programs that range from providing families with affordable housing to implementing distance learning programs.
The 2003 annual report from USDA Rural Development explains that one way the organization is able to help people and communities throughout the state is by leveraging funds and creating partnerships. This is one of the ways the group is able to make funding available for different low-interest loan and grant programs.
One of the most recent ways USDA Rural Development has helped a Lower Valley community was through the purchase of a new pumper truck for the Grandview Fire Department.
"They needed a fire truck," Eggman said. "They needed it very badly."
The way USDA Rural Development stepped in to help with the purchase of the truck was through a $100,000 community facilities grant, which helped cover a majority of the $161,000 cost of the vehicle. The City of Grandview paid for the remainder through an equipment rental loan.
The new pumper truck, which has the capacity to pump 1,250 gallons per minute, replaced a 1965 Ford pumper. The new pumper was delivered to the local fire department just last month.
Eggman said USDA Rural Development also recently took on a Self-Help Housing project in Prosser. He explained that the Self-Help Housing project is a way to get families into new homes.
Eggman explained that Self-Help Housing typically works with local housing authorities to find six to 10 low income families in an area to work together to build their own neighborhood. He said the families are required to work together building their own homes, and putting in the time to get to know one another.
"By the time these projects are done, you have really nice homes," Eggman said. He noted that working together also means that once the families move into an area they already know their neighbors.
Another way USDA Rural Development works to get proper housing for people is by helping fund the construction of apartment buildings. Kristina Johnson with the Yakima area office of USDA Rural Development said the organization currently has $1 million in the construction of the Harvest Ridge apartment complex in Grandview. She said the complex has 25 units and is set to be completed sometime in August.
Johnson said once the complex is complete, USDA Rural Development will also work with the apartment occupants, offering them rental assistance. She explained that the rental assistance typically means that occupants will pay 30 percent of their income towards rent.
"It definitely helps in areas where there are very low income families," Johnson said.
Johnson said locally, USDA Rural Development has also been involved with the Crewport water improvement project that is being spearheaded by Yakima County. She said the organization has put some funding into helping update the potable water system in the community located just outside of Granger.
Overall, Eggman said USDA Rural Development is involved in a variety of projects throughout the state, ranging from updating utilities in different communities to helping fund the construction of clinics.