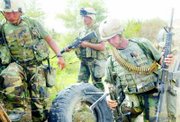 At age 22, Raul Vidaurri has already seen the world. He has climbed Mt. Fuji in Japan and spent a week in Spain. He has also spent time in the war fronts as part of Operation Iraqi Freedom.
As a graduate of PRIDE High School in Sunnyside, Vidaurri wanted to become a police officer.
"There was nothing going on here, so I just joined up," said Vidaurri.
"I told my mom when I joined there probably wouldn't be another big war," said Vidaurri.
As a corporal in the Marines, Vidaurri was a machine gunnist with the Charlie Company 2nd Platoon, based out of North Carolina. He was in the company shipped to Kuwait to fight for the bridges in Al Nasrie in Iraq. His company struggled to obtain control of the bridges. The fighting was documented and reported by CNN, he said.
Vidaurri remembers the day before his company crossed the border into Iraq.
He said that for 10 years Saddam Hussein had been calling the United States' bluff.
"Everybody was thinking the war wouldn't happen," said Vidaurri.
"We got word that President Bush gave the 48-hour deadline. Then we were told, "you know those chemical suits you have in your packs, put those on."
It wasn't until the day they actually began entering Iraq that the reality of war sunk in.
In his third or fourth day in Iraq, the vehicle carrying his clothing was destroyed.
"I had to wear the same clothes for three months and I didn't get to shower for three months," said Vidaurri.
On March 23, 2001, Vidaurri found himself in the center of what has been called the bloodiest battle since Vietnam.
Fighting for the bridges of Al Nasrie, 18 U.S. Marines were killed in combat and another 20 were injured in a four-hour period.
"Nine of the guys killed were from my platoon," said Vidaurri.
The battle was supposed to be relatively easy. Vidaurri and his platoon were supposed to walk into the city and secure two bridges.
"Intel said they (the Iraqis) would be giving themselves up," said Vidaurri.
What they found when entering the city was a brigade of Iraqi soldiers coming after them.
"We were surrounded and outnumbered 4 to 1. We were taking fire from all the way around," said Vidaurri, adding that they didn't have any air or tank support because both had gone back for refueling.
Walking through what the CIA has dubbed "Ambush Alley," Vidaurri and his unit walked through what was later learned to be the training area for terrorist groups.
"We basically went into their base and tried to take it while they were there," he said.
If Vidaurri's unit hadn't secured the bridges it would have delayed the United States' efforts by two weeks, he said.
"We pushed right through the city," he said, adding that he had a few close calls with bullets zipping past his head.
When at last Vidaurri's platoon had air support, the Marines took friendly fire, losing four men.
"It's a huge deal to people," said Vidaurri, "But to me I feel like we just did our job."
While in Iraq, Vidaurri also came into contact with Saddam's son's militia forces. The militia forces would stand behind the regular Iraqi army and if any of the soldiers decided they didn't want to fight, the militia forces would shoot them.
One of the biggest challenges in the first few days of fighting, he said, was that the enemy army was wearing uniforms, but then they shed their uniforms and were wearing civilian clothing. He added that when the U.S. military first arrived in Iraq it was much easier to find out information on where Saddam and his troops were hiding, because everyone wanted them out.
"They'd tell us where they were. We'd go to their houses and take them captive and drive their cars around the city," said Vidaurri. They would even stay in the top officials' mansions before moving on to their next assignment.
One of his platoon's assignments was to draw fire from the enemy while rescue efforts liberated Jessica Lynch.
"We found a couple of SCUD missiles and launchers," he added.
The majority of the time Vidaurri was in Iraq he wore a thick rubber chemical warfare suit, boots, gloves and a gas mask.
Vidaurri returned from Iraq June 26, 2003 and was re-deployed last winter for Afghanistan.
"They wanted me for one more deployment before I got out," he said.
He was stationed with the 2nd Battalion, 8th Marines in the mountains of Afghanistan.
He was stationed on the border of Pakistan in Nangalam, a town where Bin Laden had been seen. Vidaurri was involved in raids in the mountains looking for caches of weapons and supplies, as well as for Bin Laden and his supporters.
Vidaurri returned from Afghanistan a month ago and was discharged from the Marines, after four years of service, on July 9.
He still has aspirations of becoming a police officer as he starts classes at Bellevue Community College.
"I'm hoping to be able to move back over here permanently," he said.
Vidaurri said he is glad he chose a career in the Marines.
"I was looking for excitement and to travel the world," he said. "I would do it all over again."