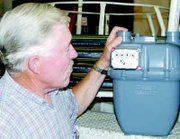 Over the coming weeks the nearly 7,000 Cascade Natural Gas customers in the company's local seven-city district will be receiving a major upgrade in technology.
Darrell Wheeler, general manager of district operations for Cascade Natural Gas, explained that the upgrade will mean that meter readers will no longer have to enter a customer's yard to get their job done.
Wheeler said the company is moving to an automatic meter reading system, which will mean that Cascade Natural Gas employees will be able to read meters without leaving the comfort of their vehicles.
The new technology involves the installation of a small encoder receiver transmitter on the actual meter itself. The meter will then record consumption of the product, encode the information and send it to data collectors that will be used by Cascade Natural Gas meter readers. Wheeler said the data collectors have a 1/2-mile radius, meaning meter readers won't have to travel down every street and alley in a community to read meters any more.
Wheeler said the new automated system will mean that routes will be completed faster. He added that the new system has been tested in other areas and is already installed in some of the company's other markets, such as Walla Walla and Bellingham.
"It's new to us, but it's not new to the industry," Wheeler said.
According to Wheeler, during one test they had someone drive down the freeway at 70 miles-per-hour and take readings. He said they then went back and did manual readings of the houses and found that the automated system had gotten the readings all correct.
When it comes to customers, Wheeler said the only thing they will notice is over the course of the next couple of weeks Cascade Natural Gas employees will be visiting customers' homes to install the transmitters, which use a low-level radio frequency to transmit information. He said installation of the transmitters should take about 15-minutes per meter.
Wheeler said the new automated system will be a nice addition for both the company and its customers. He said it will be nice for the company because it will make meter reading faster and more convenient. He noted that it will also be good for the customer because it will mean more accurate readings.
"There won't be that human error," he said.
Wheeler estimates installation of the radio transmitters will begin in Sunnyside on July 26. He encourages customers who have any questions about the new system to contact the office at 837-2041.