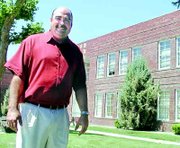 GRANDVIEW - It has only been a few weeks since Kevin Chase moved into the Grandview School District and started his new position as Grandview superintendent. However, since taking on the position July 1, Chase said he has been busy working to learn the history and the traditions of the Grandview School District.
"That's the biggest curve," Chase said. "You really need to know what has been done before, what is the precedent."
Chase said the only way to do this is to sit down and talk to people.
Coming into the school district, Chase said one of his goals is to improve instruction in every classroom, every day throughout the district.
"It's my belief that student achievement comes from interaction, interaction between teacher and child," Chase said. "Every child deserves to benefit from excellent instruction."
Chase said he has been pleasantly surprised in his first few weeks in the district, noting that everything he has heard about the district is true. He noted that the Grandview School District has everything from an involved community to excellent curriculum.
It was nearly 20 years ago that Chase started his foray into the field of education. He started in 1985 as a vocation agriculture teacher in Granger.
Chase said his father was a big reason he decided to go into teaching, noting that his father spent 30 years teaching agriculture in Sunnyside.
However, eight or nine years into his teaching career he decided it was time to get his Master's degree. After some thought Chase said he decided to get his Master's in administration. Chase said he had several friends at the time who had made the transition from teaching to administration and he saw it as the next step in his career.
Chase, who is married with two children, said the decision to leave the classroom was a tough one, noting that he enjoyed being involved with the students through things like FFA, but he knew it was time.
Chase's first administration position was as vice principal of Sunnyside High School, his alma mater.
"That was fun," Chase said, noting that he learned a lot during this three years at the school.
After putting in time at the Sunnyside school, Chase was hired as the assistant superintendent in charge of federal programs and curriculum instruction for the Mabton School District.
"It was a very different atmosphere," Chase said.
He noted that at the time, one of his friends was superintendent of the district and had previously held Chase's position. Chase said it made for an easier transition to have someone who had held the position still be in the office and be able to show him the ropes.
"He was able to guide me through that full year," he said.
One year was all Chase would hold that position. He said at the end of his first year in the Mabton School District his friend left the district and Chase was hired as the superintendent.
"That was a big learning curve," Chase said. He added that it was the people in the district office, as well as the district principals who helped him get situated in his new position.
Chase maintained his position in Mabton until just a few weeks ago, when he became superintendent of the Grandview School District.