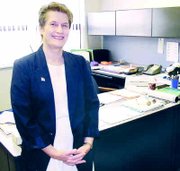 MABTON - Making a full circle in her career, Sandra Pasiero-Davis is returning to make close contact with students and parents.
"I wanted to end my career where I began it, with the families and the kids," said Pasiero-Davis.
A native of the Republic of Panama in Central America, Pasiero-Davis was hired last week by the Mabton School Board to take over the leadership of the school district.
But Pasiero-Davis does not consider her role as superintendent as one of leadership, rather one of stewardship.
"I see this as a combination of leadership and service," she said, adding that she will service the families, the community and the school district staff in her new position.
Pasiero-Davis moved to the United States at age 17, as a young college student with aspirations of becoming a pediatrician.
Attending Barry University in Miami Shores, Fla., Pasiero-Davis studied science and chemistry as a pre-med student for one year before she looked into a different field.
"I still have a great passion and love for science and math," said Pasiero-Davis. "We're all born little, natural scientists. We want to know how the world works so, we ask, 'why'."
Pasiero-Davis said her aspirations of becoming a doctor ended when she fell in love.
"Pre-med and love don't mix," she said with a smile, adding that medical programs are very difficult to manage around a relationship.
She then switched her course of study to an English major with minors in history, philosophy and science.
"It was so much fun," she said.
When she graduated and it came time for her to find a job, Pasiero-Davis was offered two jobs, one as a librarian and one as a classroom teacher, although at the time she didn't have her teaching certificate.
"I love kids," she said. "They're dynamic, they're really energizing to be around."
After a year of teaching Pasiero-Davis took a year off to go back to school for her teaching certificate. It was then she had her first child.
With a strong belief that parents should be home with their children, Pasiero-Davis took time off for her second child as well, before going back to teaching.
It was while she was teaching in Compton, Calif. that she went back to school again to work on her Master's degree and earn her secondary accreditation.
Working in a school that was a mix of white students, black students and Hispanic students, Pasiero-Davis said she found the students didn't understand each other.
"We helped them understand that they aren't all that different," said Pasiero-Davis, adding that it was through parental involvement that they were able to break through to the students.
"That's where I fell in love with parental involvement," she explained, saying she made numerous home visits while teaching in Compton.
Pasiero-Davis said it was in Compton that she learned the importance of respect and has built it in as a non-negotiable value.
"We start with respect, end with respect and work with respect," she said.
In the early 1980s, moving from Compton, where literacy was the largest issue, she relocated to East Los Angeles, where there were huge gang problems.
She received her bilingual certification and worked with language issues in the schools.
She was a UCLA doctoral candidate and completed the entire course, but moved to Washington to take a job with Educational Service District #105 in Yakima before she could write her thesis.
"It was a hard decision, but all of life's good decisions are hard decisions," said the mother of three. "It was also richly rewarding."
She resigned her position as the ESD 105 director of the migrant educational regional office to take the position in Mabton.
With ESD 105, Pasiero-Davis worked directly with administrators, principals and teachers. Taking the position as the superintendent will put her in closer contact with students and parents.
This week marks Pasiero-Davis' first full week in Mabton. One of her first duties is to work with a team to hire a new elementary school principal.