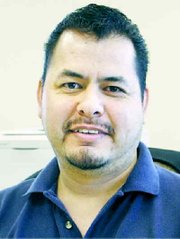 Jesse Gonzales received the full support of the Sunnyside City Council Monday night to serve on the Sunnyside Housing Authority Board of Directors.
Gonzales was appointed to the board by Mayor Ed Prilucik with Council support.
"He is excited about joining the Sunnyside Housing Authority," said Prilucik. "This appointment is forwarded to you (Council) with my full confidence."
Gonzales is the current manager of the Sunnyside branch of the Bank of the West. Prilucik cited Gonzales' vast financial experience as an asset for him to be able to serve on the board of directors.
Gonzales' term on the housing authority board of directors will expire on Sept. 7, 2008.