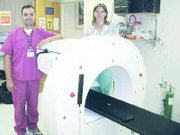 Sunnyside Community Hospital's Nuclear Medicine Department has a new camera, which hospital officials say will help doctors better diagnose heart disease.
A Meridian Nuclear Medicine Gamma camera was installed last week at the hospital, replacing equipment that was nearly 10 years old, according to Coleen Goulet, hospital diagnostic imaging director.
Goulet said the $160,000 piece of equipment is a large "field of view" imaging system that will perform virtually any nuclear medicine procedure needed.
Physicians typically use nuclear medicine as a diagnostic tool to look for disease or damage to internal organs like the heart, lungs, and digestive system, she explained.
"The Meridian system gives our hospital outstanding imaging flexibility," she said.
Goulet said the Sunnyside technologists will now be able to perform state of the art nuclear cardiac studies, including myocardial profusion imaging and MUGA scans.
"Having those two procedures available in the Lower Valley is very good news for our doctors in this area and even better news for the patients we want to help them serve," she added.
The camera will also perform an important nuclear medicine procedure called SPECT (single photon emission computed tomography - 3 D.) These procedures have previously only been available in Yakima, Tri-Cities or the Seattle area.
The hospital will hold an open house Wednesday, Aug. 11, from 9 a.m. to 3 p.m. to allow doctors and interested community members to see the new equipment and talk with staff members about the tests that will now be available locally.