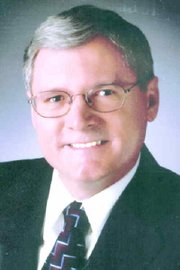 Yakima attorney Blaine Gibson has announced he will seek the Yakima County Superior Court position currently being held by Judge Heather Van Nuys.
Gibson, who has practiced law for more than 26 years, said his campaign will emphasize his broad range of courtroom experience, work ethic and his reputation as a legal scholar.
A native of Yakima, Gibson received his law degree from the University of Oregon School of Law. He reportedly has tried more than 150 cases and arbitrated another 150 cases. His practice encompasses at least 50 different areas of laws and he frequently serves as a judge pro tem or as an arbitrator in Yakima County Superior Court.
Gibson has served 16 years on Washington State Bar Association committees working to streamline the system of justice. He has chaired the bar association's ethics committee and is recognized for his expertise in the area of legal ethics.
He teaches ethics at Washington State and Yakima County Bar Association seminars and is frequently consulted by local attorneys on ethics issues.
He recently was rated "A-V" by Martindale-Hubble, a national legal publication, which is considered the highest rating an attorney can receive, based on legal ability, high ethical standards and confidences of other attorneys and judges.
Gibson and his wife, Sandi, have been married 23 years and have two children, Alyssa and Mark.