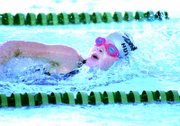 Trailing the visiting Prosser Piranhas by four points heading into the final event of the night, the 200-meter individual medley, Sunnyside's summer swim team gutted it out down the stretch and rallied for an exciting 424-408 victory Tuesday evening.
The win avenged an earlier season loss to Prosser, and boosted the Sharks' Mid-Valley Summer Swim League record to 8-2. More importantly, last night's victory validated Sunnyside is one of the three favorites, along with Prosser and Selah, to win the title at the season ending championship meet in Toppenish the first weekend in August. The Sharks pulled off a mild shocker last season by winning the championship crown, their first such title in more than 10 years.
Heading into the final event last night Sunnyside was on the short end of a 354-350 score. But the Sharks outscored Prosser 74-54 in the 200 IM, winning six of the 10 age division races.
Toni Castillo got the ball rolling for Sunnyside. A four-time winner last night at girls 10&U, she quickly scooted out in front of the competition in the longer 200 IM event and never looked back. Castillo ended up skating to the win, posting a time of 3:26.33. That was nearly 15 seconds faster than the runner-up, Prosser's M. Gant (3:41.15). Jordain Saenz (4:08.93) and Marisa Broersma (4:20.15) picked up the third and fourth place points for Sunnyside.
Cristian Vargas, who won all five boys 10&U events last night, gave Sunnyside its second straight 200 IM victory. Vargas was never challenged, as he rolled to a nearly 22-second victory over his nearest competitor. He posted a time of 4:10.17. Shark teammates Tim Stiteler (4:32.12), Giovanni Rodriguez (4:51.40) and Tony Garza (5:12.13) placed second through fourth, respectively, which prevented the Piranhas from gaining any ground at all.
Kathleen Dolan provided the hat trick for the Sharks with her 200 IM victory at girls 12&U. Like Vargas, she was never really pressed in the race, winning in a time of 3:12.83. Prosser's B. Beierle was a distant second with a clocking of 3:33.25. The Piranhas also grabbed the third and fourth place finishes in that race. The win by Dolan was her fourth on the night. The only race she lost was the 50-meter breaststroke, which was claimed by Beierle.
Aaron Henry of Sunnyside came through with flying colors at boys 12&U, giving the Sharks their fourth consecutive 200 IM win. It was the first individual race victory of the night for Henry. He hit the finishing wall at 4:01.95, edging teammate Brad Luff (4:03.89) by just under two seconds. Prosser's C. McClammer (4:08.19) was third, and Edgar Vargas of Sunnyside (4:08.59) was right on his tail for fourth place honors. Vargas also had a 50-meter backstroke win to his credit last night.
The Sharks picked up their fifth consecutive 200 IM victory when Katie Knee swam away from the field at girls 14&U. Knee, who won all five individual events and was also on both winning relay squads in her age division, posted a clocking of 3:03.09. Teammates Kaitlyn Broersma (3:29.56) and Stephanie Garza (3:48.67) earned the second and third place points in that event. Prosser's M. Rocha finished fourth.
Trailing 401-368 at that point, Prosser could have folded. Instead, the Piranhas nibbled back with victories at boys 14&U, girls 16&U and boys 16&U.
David Funk kept Prosser from sweeping all the points at boys 14&U. He placed fourth, 10 seconds behind the winner, A. Kim.
At girls 16&U, Sunnyside's Rachelle Durfey (3:16.93) and Crystal Moore (3:28.56) minimized the damage for the Sharks by placing second and third, respectively. K. Stearns of Prosser won the race in a time of 3:11.87. The Piranhas also earned the fourth place finish in that race.
Jacob Kresse notched the only 200 IM points for the 16&U Sunnyside boys, placing third. S. Torres of Prosser won that event. Coupled with the second place finish by Piranha teamate B. Burgett, Prosser suddenly found itself only trailing the Sharks by a 410-397 score.
Any suspense that was left quickly dissolved, though, when Emily Kresse and Anna Henry picked up first and third place finishes, respectively, in the 200 IM girls 18&U race. Kresse swam to a 3:19.90 clocking, defeating the runner-up M. Martin of Prosser by 11.09 seconds. Henry posted a third place time of 3:34.53.
In the final race of the night, R. Torres of Prosser (3:05.22) bested Kasey Hursh of Sunnyside (3:24.56) at boys 18&U. Hursh's brother, Kaleb, notched third place points for the Sharks.
The two clubs were fairly evenly matched in the two relay events last night, as Prosser only outscored Sunnyside by a 45-35 margin.
The Piranhas' strength came to light in the 50-meter butterfly and backstroke races. Prosser gained a 16-point advantage in those two events.
Sunnyside countered with heady performances in the 50-breaststroke, 50-freestyle and 200 IM. The Sharks outpointed Prosser by 14 in the breast, by eight points in the free and then by 20 points in the IM.
The Sharks have a bye this coming Thursday. Next week, Sunnyside closes out regular season action at Toppenish on Tuesday and at home on Wednesday against visiting Selah.