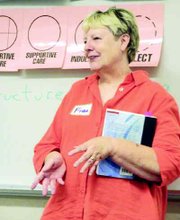 An important thing to remember when it comes to parenting is that there are no dysfunctional families. That was one of the messages delivered by Fran Love, a parent educator, led a workshop for parents Tuesday night at Pioneer Elementary School.
During the workshop Love explained that a family functions at some level. She noted that even though parenting is always going on, children are not always going to receive even parenting.
Love said during certain points in a person's life their energy might be directed toward something other than parenting. She explained that when her husband passed away, her daughter didn't receive the level of parenting she needed.
"I wasn't a bad parent," Love said. "I just wasn't parenting right then."
Love talked to the dozen or so parents in attendance at the workshop, Growing Up Again, about everything from even parenting to reassuring children through affirmations. Love also touched on what parents can expect at different stages of development. The workshop was based on the book Growing Up Again: Parenting Ourselves, Parenting Our Children, written by Jean Illsley Clarke and Connie Dawson.
One of the things Love referred to was a person's frame of reference. She noted that everyone sees things in a different way, depending on things ranging from religion to age.
"It really can make a big difference," Love said.
She explained that it's this frame of reference that people can pass on to their children. Love said, for example, that gender can make a big difference in a person's frame of reference. She explained that maybe a baby was born a girl, but the father really wanted a boy.
"Somehow we pass this along," Love said.
She noted that as people grow up they have a chance to enlarge their frame of reference through life experiences, passing that information along to their children.
Frame of reference wasn't the only topic Love covered Tuesday night. She went on to talk about what parents can expect during certain stages of development, from birth to age three.
Love noted that from birth to six months, a child is in the stage of life when they are deciding to be. She explained that it's at this stage that children can decide to live and to thrive.
She said at this stage one of the most important things a parent can do is ensure that the child knows that there is someone there to meet their needs and respond when a child cries.
"Crying is their way of communicating," Love said.
She also noted that no matter what stage of development a child is in, it is important for parents to offer them affirmations. Love gave several examples of affirmations that would be appropriate for children ages birth to six months. The affirmations range from "I'm glad you are alive" to "you can grow at your own pace."
Love said at this point in a child's development some typical behaviors include cuddling, making a lot of sounds and crying and fussing to make their needs known.
The next stage of life Love talked about was ages six to 18 months, which she explained is the "doing stage."
Love read from the book that this stage is "...a powerful time when it is important for the child to decide to trust others, to trust that it is safe and to want to explore."
She said this is the time in a child's life when it is important for them to have a safe environment to explore. She said this is the point in a child's development when they are developing sensory awareness, are beginning to signal their needs and are forming secure attachment to their parents.
Love said typical behaviors for a child this age include being curious, easily distracted and constantly testing all of their senses while they explore the environment.
When it comes to affirmations for children ages six to 18 months, Love suggested letting the child know that it's OK for them to do things as many times as they need to and to encourage them to explore.
The final stage of development Love covered during the workshop was what she dubbed the "thinking stage," or children ages 18 months to three years old.
She said this is the point in a child's development that they are beginning to think and solve problems. She said this is also when children begin to test their boundaries, express anger and experiment with throwing temper tantrums.
Love told those in attendance that this stage shouldn't be called the terrible twos, instead it should be called the terrific twos because children are simply doing what they should.
"They aren't being bad," she said.
Love said affirmations can be very important during this stage. The affirmations Love suggested parents share with their children range from "I'm glad you are starting to think for yourself" to "you can think and feel at the same time."
Love also spent some time talking about different parenting techniques. She explained that the most productive and even ways of parenting include providing children with assertive and supportive care, while setting up both negotiable and non-negotiable rules.
The example Love gave involved curfew. She said when a 14-year-old child asks to stay out, a parent should tell them when they are expected to be home, and note that they need to know where they child is going to be and with whom.
"It's non-negotiable," Love said. She explained that once a child is told what the rule is, they have to be told the consequences of breaking the rule.
Love said this rule can become negotiable later on in life. She said when the child turns 16-years old, it might be time to negotiate that curfew to just a little later in the evening.
Love told those in attendance that uneven parenting is something that is going to happen at different stages in a parent's life, noting that the important thing is having a support structure in place for the child and learning how to get back on the road of even parenting.