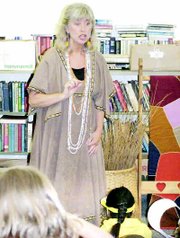 Standing before a room full of tiny listeners, storyteller Debbie Dimitre spins her tales of the lives of three famous Native American princesses.
Dimitre visited with the Sunnyside Public Library story time participants Wednesday morning as part of the Yakima Valley Regional Library summer reading program.
A veteran storyteller, Dimitre is this week's guest performer for the regional library system, sharing the adventures of famous American women such as Annie Oakley and Calamity Jane.
"She has an amazing rapport with audiences of all ages," said Clara Eustis, the regional library's children's services director and who accompanied Dimitre to Sunnyside for yesterday's performance.
Adding to the realism of her performance, Dimitre dressed in a soft brown dress, accented with long strings of shell necklaces. A woven basket of reeds and patchwork quilts added to her setting as the animated Dimitre told Sunnyside children of the life of Pocahontas, the first American female native to be presented to the Queen of England. She quickly followed that story with one about the Blackfoot Indian princess, Sacajawea, who is credited with helping smooth the path of famous explorers Lewis and Clark on their way West through the Louisiana Purchase.
Dimitre then told of the sad life of Washington's most famous native princess, Angeline. The daughter of Chief Seattle, Angeline became one of the state's first homeless people living on the streets of the town named for her famous father, Dimitre explained.
"She didn't like the white man much, because of all of the harm he did to her homeland," Dimitre explained in a poem she wrote for her performance.
Dimitre, a member of the Seattle Storyteller's Guild, said standing in front of audiences telling stories has been her lifelong passion. But it wasn't until about 18 years ago, she decided to made it her career.
A theater major, Dimitre married shortly after college. She didn't begin her storytelling career until her sons were old enough to attend high school. "The decision to become a professional storyteller came to me like a burning bush experience," she explained. "I just knew this is what I should be doing with my life," she explained.
"My career took off as people learned how interesting these women really are," she explained.
She said she chose to relate the stories of historic women like Harriet Beecher Stowe, author of Uncle Tom's Cabin, and Indian princesses because the history books don't contain enough stories about female heroines.
"I believe the stories of these women are worth knowing and we should recognize their strengths," Dimitre said.
She said rather than acting out the stories of the women, she chooses to tell their stories. Over the years, she has developed a closeness to her favorites, like humanitarian Eleanor Roosevelt.
"She may have been born rich, but she had many of the same struggles most of us have," Dimitre said.
Dimitre said being able to look her listeners in the eye while relating the women's stories is a powerful experience. "I much prefer small settings to being on a stage," she said.
"There is a special connection between the teller and the listener," she said. "It is a very intimate experience. "
Dimitre performs her series of programs for all ages, from school assemblies to community and service organizations. She hopes to one day put together a series of audio tapes of her stories.
"After all, a good story is a good story," she said.