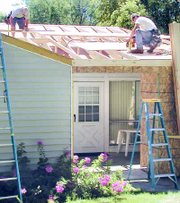 Many residents of the Sunnyside Housing Authority will soon have a place to sit and relax in the shade during the hot summer days. For the past month, the Housing Authority has been working to build covered patios and locking outside storage areas for 40 of the units located along Federal Way.
June 7, Vincent Construction, Inc. of the Tri-Cities applied for a building permit to complete the work for the Housing Authority. The fee for the permit was $1,916. The permit for the Housing Authority project was one of 99 permits issued by the Sunnyside Building Division in June.
Bruce Epps, facilities foreman for the Sunnyside Housing Authority, explained that the $284,000 project was budgeted through the organization's HUD capital improvement fund.
According to Epps, work on the units was prompted after many of the patios attached to units 1 through 40 started leaking.
"It was getting time to do something," Epps said.
The move to place a permanent roof over the patios and provide a locked outdoor storage area was made to ensure that all of the Federal Way units will look similar. Epps explained that units 41-80, which were built in 1980, had improvements made to their covered patios about six years ago.
Before the covered patio project was started on units 1 through 40, which were constructed in 1973, Epps said they each featured small privacy screens. He noted that some of the units did have small, flat fiberglass roofs over the patios.
"We're giving them a shady spot to sit," Epps said.
The improvement project has meant some fairly heavy construction work, with crews working to install I-beams and inverted trusses to form the roof over the patios.
Epps said the storage areas that will be provided through the project will give people a little extra space to store everything from patio furniture to trinkets without having to worry about leaky roofs.
Epps estimates that construction on the covered patios should be finished by September.
Other projects that were issued permits in June include a construction project at 700 Bagley Dr. Building, mechanical and plumbing permits were issued for 12 two-family buildings at that site during June, with each of the units being valued anywhere from $205,695 to $225,671. According to the Sunnyside Building Division, the project is being completed by the same company, Vaughn Bay Construction Inc. of Tacoma, that has been working since this spring on construction of Sunridge Townhomes at 700 McClain Dr. The two developments are situated back-to-back.
During June, the city's building division conducted 280 inspections and collected $33,941 in permit fees for projects with a total valuation of more than $2.8 million. The permits issued included 46 building permits, 27 plumbing permits and 20 mechanical permits, as well as three sewer connection fees, one water connection fee, one water meter permit and one public works permit for curb, gutter and sidewalk work.