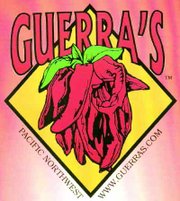 The schedule of activities will be the same, only the location has been changed for the 10th annual Pacific Northwest Chile Pepper Festival.
Set for the first weekend of August, the two-day event will be held at Guerra's Produce's new location at 6000 State Route 241, six miles north of Sunnyside.
The weekend's activities will include a dinner of delicious food of grilled peppers, corn on the cob, salsa and chips and Guerra's famous beef fajitas. In addition, this year's event will include a groundbreaking at the new festival site, beginning at noon on Saturday, Aug. 7. The festivities continue through Sunday, Aug. 8. Activities continue through 7 p.m. both days. In addition to generous amounts of food, visitors to the farm may enjoy a tour of the farm, as well as entertainment and family-style games, such as chile pepper sack races, face painting and bobbing for peppers.
Admission is $12 per person and $5 for children, ages 5 to 12.
The festival, which is dedicated to all things of a chile pepper nature, is now located on Lino and Hilda Guerra's new 71-acre farm north of Sunnyside. Since locating on the state route highway, the couple has planted more than 10,000 plants, representing 22 varieties of peppers from the mild pepperonis to the fiery habaneros and Thai peppers.
For more information call 837-8897 or visit the family web site at www.guerras.com.
. Julia Hart can be contacted at
(509) 837-4500, or you can e-mail her at jhart@eaglenewspapers.com
Mark your weekend calendar for the 10th annual Pacific Northwest Chile Pepper Festival, a two-day festival dedicated to enjoying chile peppers. The Aug. 7-8 event, to be held at 600 State Route 241 north of Sunnyside, is hosted by the Guerra family.