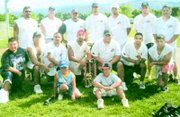 WENATCHEE - Sunnyside's KFC/A&W Brown Sox got off to a slow start last weekend, but rallied hard down the stretch to win the Powerball V Men's Slo-pitch Softball Tournament.
For the Sunnyside players, it was their fourth tournament championship of the season in five attempts.
Andy Carrizales, who was named the tourney MVP, led the Brown Sox to a 4-2 record at the Wenatchee tourney.
In last Sunday's title game, the Brown Sox defeated Vassar Electric of Tonasket by a 16-9 score.
Saturday's play was a round-robin affair. The Sunnyside club posted a 1-2 record. The only victory the Brown Sox registered on Saturday came in its opener-a 10-6 win over Taco Del Mar of Wenatchee. The Sunnyside squad then dropped a pair of 10-8 and 21-17 decisions to Hooked on Toys of Wenatchee and Lincoln Creek Lumber of Centralia, respectively.
In Sunday's single elimination championship round, the Brown Sox opened with a 16-7 spanking of Doug's Diesel of Wenatchee. In the semi-finals, the Sunnyside KFC/A&W bunch avenged its earlier loss to Lincoln Creek Lumber, this time winning by a 14-6 score. That victory propelled the Sunnyside softball players into the title game.
"We started off slow but our bats came around on Sunday and we started scoring runs," said Brown Sox player/manager Bob Sarmiento Sr.
"The team has had a great year," Sarmiento added. "Hopefully, this will carry over to the State tournament on Aug. 21 and 22 in Kent and Auburn."
Joining the MVP Carrizales on being named to the tournament all-star team last weekend were teammates Joe Gutierrez, Lino Gutierrez, Bobby Garza, Chris Brown and Scott Perkins.