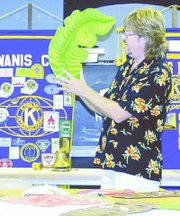 Selah artist Jeff Hoppis found a calling in creating fine arts.
At his mother's house in Hawaii, he said she had just bought a really expensive ceiling fan.
"I said, why didn't you just buy fan blades," said Hoppis, guest speaker at Thursday's Sunnyside Kiwanis Club meeting. "She said that she couldn't find any."
It was then he decided to give fan blade-making a try.
"I was looking into it and nine out of 10 homes in America have at least one fan in their house," said Hoppis. "That's a big market.
"I think they move more air, too," he said. "But I can't prove it."
Hoppis makes 14 different types of fan blades that give a splash of color and interest to ordinary ceiling fans. Some of the shapes he makes fan blades in are that of leaves, shells, feathers, horses, wolves, chili peppers, trout and Tiki masks. He said he's always open to new suggestions.
Hoppis started making and marketing his hand-painted resin fan blades on E-bay about a year ago. He ships his fan blades all over the United States. To this point, most of the blades have not been purchased by local customers.
Hoppis sculpted the original fan blades from clay and made rubber molds of the blades. He uses a Dremel to smooth the edges before hand-painting the blades.
To make the blades he weighs out resin, so there isn't a problem with weights. He added that he ships counterweights with the five fan blades as a precautionary measure.
Over a year ago, when he started making fan blades, Hoppis said there were very few people making decorative fan blades. He said there are several people making them now, but most of them aren't made of resin. He said his blades will break if someone puts a broom in them while running, but, he added they are sturdier than styrofoam decorative blades on the market.
Currently, most of the blades are selling back east and in more tropical areas.
"I just sold four sets and sent them to the Virgin Islands," said Hoppis. "I usually sell five to 15 sets a weeks."
Fan blade sets sell for $135 to $250 for a five-blade set.
Making fan blades is a side job, which is turning into a full-time job, said Hoppis, who is also a painter. He is a nationally recognized photograph retoucher. In the past he has also made movie posters and video covers for Paramount and MGM Studios.
Hoppis makes the fan blades as they are ordered.
"It's hard for me to stock-pile them. I just can't get ahead," he said.