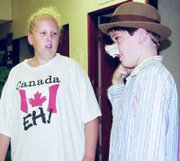 Twelve young actors will be taking the stage to perform Funny Sunny Fairy Tales Friday, July 30, as part of the Sunnyside Parks and Recreation summer children's theater program.
The play, directed by Laura Berkompas, which she co-wrote with her sister Jennifer Berkompas, is the third to take the stage as a part of the summer program, according to Joan Niemeyer of the Sunnyside Parks and Recreation Department.
The story follows Alison as she tries to find her way through the forest to her grandmother's house. Along the way she meets a wolf, who despite his hungry tendency, attempts to help her find her way.
The summer theater program is open on a first-come, first-serve basis, according to Niemeyer.
"The really wonderful thing about this program is everyone who registers acts. No one is cut," she said.
This year the majority of the actors are from the Sunnyside area. One of the actresses is from the Tri-Cities, added Niemeyer. The actors have had five weeks to rehearse the play and develop costumes for the final performance.
Playing the Crazy Capper in the performance will be Elijah Pena. Madison Door will be the June Bunny, Madelyn Bogen has been cast as the House Mouse. Tonnelle Dreisen will play Alison, Macy Dreisen will be Shelly and a tree, and Jenneil Duran and Shawnee Hooper will be playing trees. Cast as a bear is Thomas Niemeyer. Joseph Bogen will play the Big Bad Wolf and Samuel Bogen will play Adam. Stefani Anciso has been cast as grandma and Becca Niemeyer will be the witch in the play.
A handful of the actors have returned from previous years.
"This year some of the characters are forest trees and animals. They don't have speaking parts, but they get to be creative without speaking," Niemeyer said.
Each year the play performed by the young actors is an original work written by the summer parks and recreation staff.
"The staff has had an interest in creating plays, so we go with what they write," said Niemeyer. "It makes it more affordable, too."
The play will have a running time of about 30 minutes and is free to the public. The performance will be at 7 p.m. at the Sunnyside High School auditorium Friday, July 30. Refreshments with the cast and crew will be served after the performance.