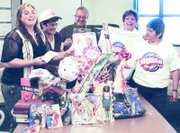 Wednesday nights for the past month have been a flurry of committee meetings centered on organizing the annual Lower Valley National Night Out kick-off.
This year's event is being hosted by the city of Sunnyside and is chaired by Sunnyside Police Officer Chico Rodriguez. The committee has mailed letters, invitations and requests for attendance, help, prizes and donations to help make the kick-off event set for Monday, Aug. 2, a huge community success.
"People have been very generous with time and materials," said Rodriguez.
Working with him are members of the Sunnyside Police Department, Sunnyside's Promise, the Sunnyside School District and service groups, which are helping to organize an evening of food, fun and informal gatherings for giving neighborhood crime a going away party, he explained.
The kick-off event will be held at the Sunnyside Law and Justice Center, from 5 to 8 p.m., and will feature a barbecue hosted by the Sunnyside City Council. Music and games will be hosted by the various community members, including the Cinco de Mayo and Miss Sunnyside courts. The Sunnyside Police Explorers and reserve officers, along with the Sunnyside Fire Department will also be helping out with games and water events, he added.
Invited to the event is "...the entire community," Rodriguez said.
"We have also invited the Lower Valley city councils and police departments from Mabton, Granger and Grandview," he added.
"We will also have a number of social service agencies hosting informational booths at Monday night's event, with information about everything from home security to health issues," he said.
The kick-off is a prelude to the neighborhood block parties to be held throughout Sunnyside Tuesday, Aug 3, from 6 to 9 p.m.
"So far, we have 14 neighborhoods signed up for block parties. But we are hoping more neighbors will pool their efforts to sponsor evening gatherings," he said.
The purpose of the block parties is to give neighbors a heightened awareness of who belongs in their neighborhood and who the strangers may be, he explained.
"The sad truth is block watches are seriously needed in our community," he said.
Rodriguez said in the past several years local law enforcement has seen an increase in daylight residential break-ins.
"The criminals know when everyone is at work," he said.
"But there is always someone at home in the neighborhood who can be keeping an eye on things," he suggested.
The block parties, in addition to being a fun evening of socialization, are also a good time for organizing block watch committees, Rodriguez said.
Persons interested in signing up for block parties are encouraged to call Rodriguez at the police department, 836-6211, or by attending the Aug. 2 kick-off event.