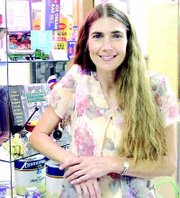 Three days before M'liss Bierlink planned to leave her position as the Port of Sunnyside finance officer, her replacement began to learn the ropes.
Marilyn Wilson, 45, of Prosser took over the role of finance officer and treasurer for the Port on July 5.
Familiar with the area, Wilson moved to Prosser last fall from Pilot Rock, Ore. to be closer to friends. She previously worked for the Confederated Tribes of the Umatilla Indian Reservation at the Yellowhawk Tribal Health Center, where she worked with finance and human resources for about eight years.
She also has a financial background in the private sector.
One of the biggest changes she has learned in her short time with the Port is that unlike working for a medical clinic, everything the Port does is open for the public to know, rather than everything being confidential.
"We have to answer to the taxpayers," she said.
Before she started with the Sunnyside Port District, Wilson did her homework to learn about the Port's role in the community.
"I did quite a bit of research before I applied for this position," said Wilson. "The people of this community have a lot to be proud of here."
She said that the community the Port is serving is progressive and expanding, unlike other areas she has lived in.
Wilson said she has lived in communities that have wanted to remain the same and not change. She said residents of those communities have wondered why their children grow up and leave the community when there are no jobs available. But Wilson has already realized that numerous local employment opportunities are created by the Sunnyside Port District's support services to Lower Valley industries.
Wilson said she was also impressed that the Port is self-sustaining and makes excellent use of taxpayers' dollars.
Since starting work at the Port, Wilson has been familiarizing herself with the financial aspects of the district in preparation for the upcoming budget season, which begins at the end of the month.
As part of her new duties, she has been studying differences between grant, industrial wastewater treatment fees and the Port's other revenue sources.
A native of Albuquerque, New Mexico, Wilson began her career in finance in 1976. After working temporarily in a finance position, she realized she wouldn't be able to acquire a full-time and permanent position in that field without a college degree.
"I needed a reality check, I guess," she said.
She went back to school and earned her Bachelor's in business administration, studying accounting and finance at the University of New Mexico in Albuquerque.
Wilson is the mother of two and grandmother of two.
She said she hopes that she will complement the Port staff.
Port Manager Amber Hansen said that half a dozen applicants sought the position.
"She (Wilson) came out on top of the interview process," said Hansen. "She has really great communication skills and her background and proven work experience are just what we need. She had a good mix of both human resources and accounting."
Hansen said that being a small agency, having someone who can fill the human resources role as well as the finance role is positive for the Port.