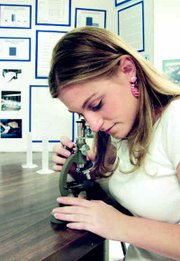 Science is one field Miss Sunnyside candidate Megan Cornelius excels in right now. But the 17-year-old Sunnyside High School senior most desires to study the science of the mind.
Cornelius is one of eight young ladies vying for the Miss Sunnyside title. This year's pageant will be held Saturday, Sept. 18, at Sunnyside High School.
Cornelius is the daughter of John and Patrice Cornelius of Sunnyside. She is being sponsored in her quest for the Miss Sunnyside title by Bleyhl's and Harold's Repair and Rental.
At Sunnyside High School Cornelius is involved with Link Crew, which is a group of students involved with helping the incoming freshmen class make the transition from middle school to high school.
Cornelius' love in school is studying science. It began piquing her interest in the seventh grade.
"I thought it sounded interesting," said Cornelius.
Her budding fascination with science took her to the next level, becoming a science fair contestant, under the keen guidance of Sunnyside School District science teacher Joyce Stark.
"It is a real learning experience," said Cornelius of the science fair. "You learn to work hard. You are kind of on your own to do everything."
Cornelius said science fair involves a lot of hard work and dedication. She said in preparing for science fair it is not uncommon to be working into the wee hours of the morning.
When Cornelius isn't trying to figure out the ways of the world through her science projects, she stays busy with sports. She has played school soccer for several years and during her freshman season in high school turned out for cross country and tennis. Cornelius first became involved with soccer through the parks and recreation department in the second grade.
"It is kind of how I vent my anger," joked Cornelius.
Cornelius is also involved with her youth group at Calvary Lutheran Church.
Science fair has taken Cornelius to many new places. The last day of this past school year, Cornelius boarded a plane to Denver to take part in the Stockholm Junior Water Prize Fair.
"I really got to know some people there," said Cornelius.
Cornelius has also competed at the state and national science fairs, earning a variety of different honors.
But while science has taken up many an hour for Cornelius, she wants to delve into another type of science after graduating from high school, psychology.
Cornelius' interest in psychology can be traced back to a book she read about girls who were suffering from cancer. In the book the girls received counseling and were able to deal with the disease better.
"Counseling really helps," said Cornelius.
The kind of counseling Cornelius wants to work in is directly linked to her community service project if she were selected Miss Sunnyside, which is being involved with Children's Village. Cornelius said she wants to work with children and their families.
Cornelius, who is a life-long resident of Sunnyside, likes living in a town the size of Sunnyside.
"The town is the right size," said Cornelius. "We have things to do."
Cornelius said one of the best parts about Sunnyside is the friendly people who help out one another. And she also likes that living in a small town people get to know everyone.
"Almost everybody has a story," smiled Cornelius.
Cornelius, who describes herself as talkative, likes to have fun, is friendly, works hard and enjoys being successful. She decided to run for Miss Sunnyside because she felt it would be a good, positive community activity.
If Cornelius is selected as Miss Sunnyside or to the royal court, one of her first goals will be to find more ways to get the community involved with activities. Cornelius suggested the possibility of having a Miss Sunnyside-sponsored family day in the park. Cornelius also said as Miss Sunnyside she wouldn't want her court performing just the community service project she selects. She said she would want to make sure each of the other members of the court would have a chance to be involved with service projects of their own choosing.
"That way we could get out and get more involved with the community," said Cornelius.
Cornelius said she is looking forward to the chance of serving on the Miss Sunnyside court. Cornelius said she has a goal of wanting to be involved as much as possible with the community to make it a better place to live.
Cornelius said she would be honored to serve as Miss Sunnyside.
"If I was named Miss Sunnyside, it would feel like all my hard work paid off," said Cornelius. "It would give me a chance to help out in the community and be more involved."