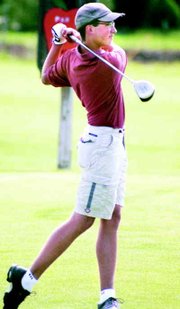 WALLA WALLA - Close, oh so close. That's what Sunnyside's Kevin Lick had to be feeling this past Tuesday at the Washington Junior Golf Association (WJGA) District 4 Championship.
Lick, a senior-to-be at Sunnyside High School this fall, narrowly missed the cut for the WJGA State championship in the boys 16/17-year-old age division. Needing a top seven finish at the District affair to move on to the State tourney, Lick instead earned the second alternate's spot.
The standout Sunnyside golfer turned in a roller coaster type performance Monday at Walla Walla Country Club. Lick's round included everthing from a triple bogey to a double-eagle.
The highlight for the teen on the opening day of the District 4 competition came on No. 7, a 480-yard, par-5 hole. Lick holed his second shot from 240 yards out for a double-eagle.
Lick went on to collect four birdies in Monday's round. Unfortunately, what could have been a memorable keepsake vanished when he absorbed a bogey, two double bogeys and one triple bogey. Still, the local youth netted a one-over 73 for his day's work, which put him in fourth place heading into day two.
"Kevin's entire round could be described as one of big ups and downs," said his father, Tim Lick.
The District 4 finishing round, on Tuesday, was staged at Walla Walla's Veterans Memorial Golf Course. Lick was unable to find the magic from the day before, instead settling for 11 pars, five bogeys and two double bogeys. His final round score of 81 gave him a two-day total of 154, which left him in 10th place.
The ninth place finisher, Kevin Tucker, declined the No. 2 alternate's spot to State. That honor then went to Lick.
The WJGA District 4 winner was Yakima's Bobby Elder, who had a two-day total of 143 (72-71). Maxton Reinland of College Place placed second with a 148.
Besides Lick competing at the District 4 championship, the Lower Yakima Valley was represented by Grandview's Andrew Schutt. The Grandview High School golfer opened with an 83, the 18th lowest score in his age division Monday. He followed that up with an 85, which left him in a 17th place tie from the 21-person field.
The WJGA State championships will be held July 28-30 in Everett.
At a USGA Junior Amateur sectional qualifier earlier this month, held in Woodburn, Ore., Lick scored an 87-74 to tie for 55th place from a field of 74 golfers, all 18 years of age or younger. The top four finishers at Woodburn qualified to play in the USGA Junior Amateur National Championship in San Francisco. Landon Banks of Portland, Ore. won the sectional event with scores of 68-71.