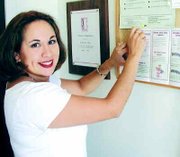 Yesenia Rodriguez has always liked helping people.
For years, the Sunnyside woman worked with the Employment Security Department, helping people return to the work force. Today, she is helping parents learn how to access the education system as a parent education facilitator for Northwest Community Action Center's Sunnyside Parent Information and Resources Center.
Funding for her project comes from President's Bush's "No Child Left Behind Act," she explained.
Rodriguez, a Central Washington University graduate, now works with the Sunnyside and Grandview school districts to link parents with community education resources, such as adult education and parenting workshops.
A business administration major, Rodriguez said she was hired this past March to begin helping schools aid parents in becoming more involved in their children's education. Her office was located at Sunnyside's Pioneer Elementary School this past school year.
"I expect to be relocated in the Sunnyside School District's Community Technology Center this fall," Rodriguez said.
The community center, situated in the Denny Blaine building on Custer Avenue, will allow Rodriguez to offer more resources for families. Rodriguez, who is the parent of a 13-month-old son, said shifting career directions, from employment to education, was done for two reasons.
"I wanted to know what to expect when my son starts school. I wanted to know how I could help him be successful in school," she explained.
By helping him, she is also helping other parents gain an insight into their children's academic success.
"We are helping parents by making the schools less of a mystery," she said.
"I want to help parents be a part of the "No Child Left Behind" concept," she explained.