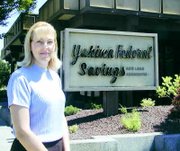 Since mid-June Debbie Hazzard has been sitting behind a new desk at Sunnyside's Yakima Federal Savings and Loan. Hazzard was recently named the new branch manager, replacing Paul Erickson, who is now managing the Kennewick branch of the bank.
Hazzard may be new to the position of branch manager, but she is no stranger to the inner workings of the local Yakima Federal branch. Hazzard has worked at the bank in different capacities for 13 years.
"I started as a teller and just worked my way from there," Hazzard said, noting that over time she has worked in just about every part of the bank.
Hazzard, a Sunnyside native, said 13 years ago she was simply looking for a good job and found herself applying at the local bank branch.
"I got the job here [and] I liked it," Hazzard said.
She said when she first started at the bank she realized there was an opportunity for growth. Hazzard said she worked as a teller for a just a little over a year, before becoming the loan secretary, then the loan officer and finally the assistant branch manager, which is the position she held before becoming branch manager last month.
Hazzard said as branch manager she is responsible for the day-to-day operations of the bank, noting that she will also continue to work with mortgage loans. Hazzard said she enjoys working with mortgage loans and the people who apply for them.
"It's gratifying to give a first time home buyer a loan," Hazzard said.
Overall, Hazzard said she feels Erickson helped prepare her for taking over the branch manager position.
"I was well trained to step into this position," Hazzard said.
She said the only changes she plans to make at this point involve some minor re-organizing and getting things set up in a way that suits her.