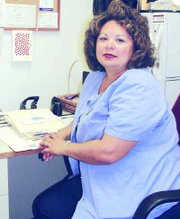 For just a little over a month, Peggy Palomarez has been working to acquaint herself with Planned Parenthood and the myriad of different services the organization provides. Palomarez has been learning the ropes, preparing for her new position as a community service outreach nurse for the Lower Valley.
Palomarez said her position, which she started on June 14, is one that requires her to know a little bit about everything Planned Parenthood offers to its clients. She said it is her job to go out and visit families from Grandview to Wapato that for one reason or another are unable to make it to a Planned Parenthood office.
However, when talking to the families she visits she isn't simply talking about family planning. Palomarez said through Planned Parenthood she is also working to connect families with other services they may qualify for, from getting transportation to and from doctors appointments to teaching people about the importance of immunizations.
"I was hired to go out into the community and be able to provide information and referrals for the needs of the different families," Palomarez said. "We're providing door-to-door service."
Palomarez said as an outreach nurse she will also be providing people with information and referrals on overcoming everything from substance abuse to domestic violence.
"We can make a connection and get the information to them," she explained, noting that the information can get a person pointed in the right direction.
Palomarez admits that her position does still include providing families with information on family planning, as well. She noted that she is there to educate families on the availability of low-cost health care, the importance of pre-natal care and the availability of parenting classes that address how parents can better communicate with their children.
At this point, Palomarez said one of the goals she has for her new position is to be constantly out on the road talking to different families.
Palomarez is no stranger to the field of nursing. Before taking the position at Planned Parenthood she was working as a nurse for the Ahtanum View Correctional Complex in Yakima. Palomarez said the complex is a transitional housing center for inmates from minimum security prison. She said staying at the complex was typically the final step of their sentencing.
Palomarez said as a nurse at the complex one of her jobs was educating the inmates on the process of re-entering society and the importance of things like getting any prescriptions refilled.
Palomarez worked at the correctional complex for two years.
For Palomarez, the decision to go into nursing was one that came as a teenager. She said right out of high school, she can remember going to doctors' appointments with her grandparents. She said she remembers the doctors and nurses using large technical terms that her family didn't always understand. That is when she decided she wanted to be a nurse and help families that were in the same position as hers.
Her grandparents were also the reason Palomarez, who was born in Sunnyside and raised in Burlington, Wa., decided to move back to the Yakima Valley as an adult.
"My grandmothers brought me back to the Valley," Palomarez said. "I was always very close to them."
Palomarez is married to Ruben and together they have four children, Tommy, 17; Michele, 16; Buddha, 12; and Ricky, 10.