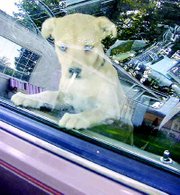 With Yakima Valley temperatures soaring into the 90s and even higher during the past week, the temperatures inside a car can exceed 125 degrees in as little as 20 minutes.
The car's interior temperatures are already hotter than outside temperatures, and climb rapidly, causing grave danger for both children and pets. Parents and caregivers are reminded that children and infants' bodies warm three to five times faster than adults and are at extreme risk of heat stroke in such conditions.
Already this year, there have been at least 14 infants and children across the nation who have died after being left in hot cars, trucks, vans and SUVs, according to the Washington Council for the Prevention of Child Abuse and Neglect.
Some of those deaths occurred on days with relatively mild temperatures, according to Council officials.
In 2003, there was a record 42 such preventable tragedies.
"We want people to remember one thing - never leave a child unattended in a car," said Joan Sharp, executive director of the Council.
"It is especially important that parents and caregivers and pet owners understand that the risks summer heat can bring," Sharp said.
With heat stroke, a child's skin becomes red and dry. The child is unable to produce sweat needed to reduce his core body temperature. The heart rates quicken and the child becomes confused and may lose consciousness before his organ systems begin to fail.
Cracking the windows enough to let in air is not an effective way to avoid the heat risks involved with leaving a child alone in a car on a hot day, Sharp said.
She recommends seeking immediate emergency medical attention if you think that your child has been exposed to high temperatures by having been left in or accidentally trapped in a car. If a child gets locked inside the car, dial 9-1-1 immediately.
"If you observe a child left unattended in a car, it is appropriate to dial 9-1-1 or contact your local law enforcement agency. It's always better to be safe than sorry," said Sharp.
Don't forget to protect your pets too, advise animal experts. Just as children should never be left unattended in a car, the family pet should never be left in vehicles during summer heat, even with the window cracked. The Yakima Humane Society said dogs just can't cool off as fast as the temperatures are rising inside the vehicle.
Animals can suffer heat exhaustion and heat stoke rapidly in enclosed cars, even in a short periods of time.
When outside in the hot summer heat, to protect yourselves from the risks, health experts remind people to wear sun screen with a sun protection factor (SPF) of 15 or higher. Apply the sunscreen at least 15 minutes before going outdoors and reapply after swimming.
Don't forget to apply a lip balm with a SPF to protect lips and wear sunglasses with ultraviolet protection to provide a defense from the sun for your eyes, according to Margaret Bruya, assistant dean for academic health services at Washington State Intercollegiate College of Nursing.
Wear wide-brimmed hats to cover the neck area. This is important because the neck is the area of the body directly connected to the brain's temperature regulation system, Bruya added.
She said wearing sunscreen and a hat will reduce UV radiation to the factor of almost zero.
"You can also reduce the risk of heat stroke by spending more time indoors during the hottest parts of the day (10 a.m. to 2 p.m.) and on humid days," she advises.
Remember to avoid dehydration by drinking lots of water, she added.
"Drink at least eight glasses of water a day, more if really hot, " she added.