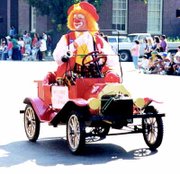 GRANDVIEW - A Lower Valley Clown Association meeting will be held Thursday, July 29, in Grandview.
The meeting will take place in the courtroom at the Grandview Police Department, beginning at 7 p.m.
Thursday's meeting will mark the first gathering of the Lower Valley Clown Association, which is in the process of getting started.
The group of clowns will be doing many volunteer activities in the Lower Valley area.
The meeting is open to all ages, young and old alike. Potential members under the age of 16 will need to be accompanied by their parent or guardian.
Those who are interested in being a clown will have the opportunity to learn from others in the group about make-up application, costumes, etiquette, tricks, juggling and many more clowning activities.
Arlo Waggoner, a.k.a. Waldo the Clown, and Joyce Johnson, a.k.a. Pickles, will be helping to get this fun community service organization going.
For more information, call Waggoner at 837-3826.