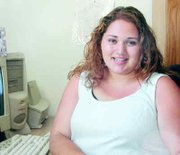 When Andrea Castillo was a little girl she never dreamed that one day she would be leading Bible studies, let alone organizing community events.
But the Trinity Bible College theology major is doing just that at her childhood house of worship.
"I was always shy as a child and wouldn't have dreamed of standing in front of a group of people, let alone leading classes," she said.
But she overcame her shyness at the Sunnyside Neighborhood Church of God under the direction of her former youth pastor, Bob North. North, who is now senior pastor at the Allen Road church, hired Castillo this past June to be the church's intern children's pastor, a job, Castillo said, she is enjoying immensely.
A 2001 Grandview High School graduate, she will finish up her Biblical studies at the North Dakota college this school year. In the meantime, she is gaining valuable experience in organizing children and family events for the Neighborhood Church family. This coming weekend she will host her first major children's event.
"We are expecting more than 250 children for our 'Kids Blast' day camp," she said. The Kid Blast, a Bible day camp, is set for Saturday, Aug. 7, at the church on Allen Road.
Starting at 9 a.m. children, ages 4 to 12, will attend different activity stations, such as crafts, games, theater, Bible study, all to be followed by a free family picnic at 1 p.m.
In addition there will be food, carnival games, contests, prizes, music and inflatable games, according to Castillo.
She said the event is free to everyone, but it doesn't end at the end of the picnic.
"At 7 p.m., we will have two special guests - Bibleman and Biblegirl," she said.
Castillo said she discovered the Biblical super heros at a church camp and invited them to come to Sunnyside to present a program for Lower Valley children.
"I'm very excited about them coming to our Sunnyside program," she said.
"We're hoping parents will also be interested in attending the evening program," she said.
Castillo, who said she hopes to specialize in children's ministry following college graduation, will be returning to North Dakota in August.
"I'd like to eventually end up back in Washington, particularly in the Lower Valley," she said
"I've decided I don't like being so far away from my home and family, " she said.
"I get awful homesick. Guess I'm still a little shy about some things," she smiled.