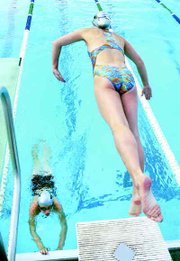 "Not in my house" could have easily been the call of the Sunnyside Sharks summer swim team last night. Defending their home turf, or in this case their home pool, the Sharks dunked the visiting powerhouse Selah Dolphins by a 425-384 score.
The tight victory over Selah avenged a loss to the Dolphins earlier this season. The win also gives the Sharks a sparkling 10-2 record in league play, putting the Sunnyside club among the elite of the Mid-Valley Summer Swim League. The end of the season league championships will be held this coming Friday, Saturday and Sunday in Toppenish.
Of the 25 victories garnered by Sunnyside's girls last night, 18 of the wins were the direct result of the efforts of Kathleen Dolan, Brittany Broersma, Toni Castillo and Rachelle Durfey.
Dolan swept all five girls 12&U individual races, piling up a team high 30 points for the Sharks. Her toughest competitors last night were Selah's Nicole Bannister and Rainan Viernes, who combined for three runner-up finishes and three third place efforts. The closest margin of victory for Dolan came in the 50-meter butterfly, when Bannister finished just eight-tenth's of a second behind her. Dolan creamed the field in the 200-meter individual medley, winning in a time of 3:15.37. The next closest finisher, in a time of 3:39.56, was teammate Alissa Martin.
Broersma dominated the girls 8&U field. She won all four of the individual races, with her margins of victory ranging from 3.78 seconds to 10.19 seconds. To Sunnyside's credit, Sydnee Hernandez grabbed all the second place points for the Sharks.
Castillo's lone loss in last night's girls 10&U individual races came in the 50-meter breaststroke. Selah's Shannon Gaskill clipped her by about eight-tenth's of a second for the win. In the four other races, though, Castillo was unstoppable. Castillo's chief rival was Selah's Nicole Kim, who earned four runner-up finishes. Castillo was 1.63 and 1.93 seconds faster than Kim in the 50-meter backstroke and freestyle races, respectively, and bested Kim by 3.21 seconds in the 50-butterfly and by 7.41 seconds in the 200-individual medley.
Durfey, like Castillo, also won four of the five individual races in her age division. The girls 16&U competitor's lone downfall was in the 50-meter backstroke, which was won by Michelle Gordy of Selah. Gordy was 1.66 seconds faster than Durfey in that event. Durfey, who was never seriously challenged in any of the four races she won, got a lot of support from her teammates in last night's races, as Crystal Moore grabbed two runner-up finishes, two thirds and a fourth place finish. Also, teammates Hannah Glockner and Cami Funk combined for three third place finishes and a fourth place effort.
On the boys side last night, Tad Tyhuis and Kaleb Hursh earned the most points for Sunnyside. Hursh tallied 23-1/4 team points for the Sharks in the boys 18&U races. Tyhuis won three races and placed second once in the 8&U events enroute to tallying 22 team points.
Jacob Kresse and Cristian Vargas also turned in noteworthy performances for the Sharks. Kresse, a 16&U competitor, handily won the 50-fly. He also garnered two second place finishes and two thirds in the individual races, and swam on both winning boys 18&U relay squads. Vargas, in the boys 10&U division, was a two-time winner, placed second one time and ended up with two third place finishes.
The Sunnyside foursome of Emily Kresse, Rebecca Razey, Laura Matson and Anna Henry swept all of the girls 18&U points last night. Kresse and Razey each had two individual race victories and Matson scored one win. The foursome also combined to win the 18&U medley relay.
Sunnyside's Katie Knee, who has cast aside the girls 14&U competition all season long, ran into a buzz saw last night in Selah's Elizabeth Kim. The standout Dolphin swimmer won four of the five individual races. Knee prevented Kim from earning the sweep when she edged Kim by four-tenth's of a second in the 50-backstroke.
At boys 12&U, Jacob Hollander found the most success against Selah. Hollander racked up 16-1/4 team points for the Sharks via a win in the 50-fly, coupled with two second place finishes and a fourth place performance. Hollander also swam one of the legs on the winning medley relay team in his age division. Selah's Josh Gaskill dominated at 12&U, winning four of the five individual races.
Alexander Henry was the only Shark to pick up points in the boys 14&U events. He earned a pair of third place finishes. Selah's Jon Gaskill led a strong contingent of Dolphins with four individual race victories.
The team points earned individually by the Sunnyside swimmers last night follow:
30: Kathleen Dolan; 29.5: Toni Castillo; 28: Rachelle Durfey; 24: Brittany Broersma; 23.25: Kaleb Hursh, Emily Kresse; 22: Katie Knee, Tad Tyhuis; 21.25: Rebecca Razey; 20.5: Jacob Kresse; 20: Cristian Vargas; 16.25: Laura Matson, Jacob Hollander; 16: Sydnee Hernandez; 13: Crystal Moore; 12.5: Zile Wagner; 11.25: Kasey Hursh; 9.25: Brad Luff; 7.25: Anna Henry; 7: Tim Stiteler; 6: Kaitlyn Broersma, Aaron Henry; 5.25: Marisa Broersma; 5: Alissa Martin, Giovanni Rodriguez; 4: Hannah Glocker, Alexander Henry; 3.25: Edgar Vargas; 3: Cami Funk; 2.25: Omar Vergara; 2: Lyndsee Anderson, Josslyn Ahumada; 1.25: Jordain Saenz, Emily Hutchins, M. Hutchins, A. Henry; 1: Natalie Hernandez, Megan Tyler.