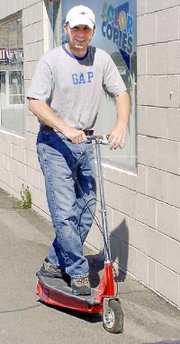 Whizzing around town, the wind blowing through your hair and the quiet whir of a small engine at your feet is something more and more local residents are spending the money to experience. Since last summer Sunnyside's Schuck's Auto Supply has been selling different models of gas and electric powered scooters, which give riders a chance to scoot around town without having to give much thought to things like high gas prices.
"We're selling these like crazy," said Celso Vergara, assistant manger of the local Schuck's Auto Supply.
The scooters have impressive capabilities, with the electric models having the power to travel at speeds of up to 16 miles per hour and the gas models being able to travel as fast as 25 miles per hour. Vergara noted that there are also new, larger electric models that can travel at higher rates of speed.
According to Vergara, the compact vehicles also have different travel distance capabilities. He explained that most of the electric scooters can travel approximately six miles on one charge, adding that it takes about four hours to charge one of the vehicles. This means a person could travel from Sunnyside to Grandview on one charge. Vergara said the gas models, which have a small gas tank, can usually run for about four hours on one tank. He added that it is possible for riders to carry extra fuel on them if they know they are going to be traveling for a longer time.
Vergara said locally the gas scooters seem to be more popular because they are able to go faster. He also noted that the people purchasing the scooters tend to be older because of the cost involved.
Despite having the capability to get a person from point A to point B in a short amount of time, there are few regulations that specifically apply to the motorized scooters. Sunnyside Police Captain Phil Schenck said the local police department has several concerns about the scooters. He explained that helmets are not a requirement for scooter riders and most of the people operating the scooters are juveniles who don't know the rules of the road. Schenck added that just having the vehicles operating on the road makes them a concern for the police.
Schenck said at this point the City of Sunnyside has no ordinance that specifically covers the gas and electric scooters. He said right now police are simply responding to calls they receive dealing with the vehicles.
"In these instances we'll contact the operator and advise them that they need to be operating them safely," Schenck said.
Grandview Police Chief Dave Charvet said the City of Grandview, like Sunnyside, currently has no ordinance that applies specifically to the scooters. He said one of his biggest concerns about the vehicles is their capability to bolt in and out of the roadway.
Schenck said operators of the scooters need to remember to follow the rules of the road, which include stopping at stop signs, using hand signals and riding on the right-hand side of the road. He noted that the rules are similar to those that apply when someone is riding a bicycle on the street.
Charvet added that people who operate the scooters should always be paying attention to what they are doing, not weaving in and out of traffic and they should wear a helmet.
"These things do go 15 to 20 miles per hour, it's not a slow moving vehicle by any means," Charvet said.
Grandview City Attorney Jack Maxwell said there is not a licensing requirement that comes with operating one of the scooters. He added that communities across the state are beginning to look at creating ordinances that govern the new category of vehicle. He said some communities on the coast have created age restrictions on the scooters. Maxwell said if the city notices any problems with the scooters, officials will likely begin looking at creating an ordinance.
Schenck said scooter riders in Sunnyside should be watching closely because in the next couple of weeks the city could be making some modifications to city ordinances that could affect them.