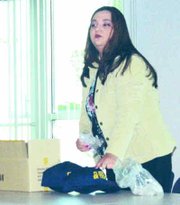 UNION GAP - Washington state might have the highest seat belt usage in the world at 95 percent compliance, but that isn't stopping the efforts of the Washington Traffic Safety Commission.
The Washington Traffic Safety Commission spearheaded a seatbelt emphasis campaign in the Upper Valley over Memorial Day weekend. The effort conducted under the direction of the Washington State Patrol utilized officers from Mabton, Granger, Union Gap and Yakima to conduct the special seatbelt compliance emphasis campaign this past Friday. A similar campaign utilizing officers from different jurisdictions will be conducted in the Lower Valley this coming Friday.
Edica Esqueda, Yakima County traffic safety coordinator, said the point of the special emphasis campaign is directed towards increasing seatbelt compliance, but will be looking to stop speeders, people driving under the influence and aggressive drivers.
"It (the Click it or Ticket campaign) is promoting safe and effective driving," said Esqueda.
Esqueda, who works out of the Mabton Police Department, said the Click it or Tick it campaign, which this emphasis is geared towards, has been ongoing for more than 10 years. The extra patrol emphasis this coming Friday will take place beginning around noon and run into the early evening. The emphasis patrol is being done during the daylight hours to help catch people who are not complying with the state seatbelt law.
Esqueda is hoping to obtain a grant later this year that will allow an emphasis campaign targeting drunk drivers.
The emphasis campaign actually began May 10 and will wind up this coming weekend. During this campaign officers throughout the county work together to target drivers who aren't complying.
There are some facts to back up the need for the extra emphasis patrols, said Esqueda. In Washington state, speeding contributed to more than 35 percent of all fatalities. Speeding fatalities hit its highest levels in 10 years, causing 39 percent of all fatalities.
Aggressive driving has also seen an increase in causing deaths. In 2003, the Washington State Patrol saw an increase of 219 percent in aggressive driving violations. Aggressive driving is different than road rage. Aggressive driving includes dangerous speeding, which is 15 miles per hour or more than the regular speed limit. Aggressive driving behaviors also include tailgating and changing lanes without signaling.
Yakima County had a seat belt usage rate of 92 percent last year. Esqueda cited studies that show a person wearing a seatbelt has more than a 70 percent chance of surviving a vehicle crash. A person not wearing a seatbelt in an automobile accident is also on average to incur more than $11,000 in additional medical expenses.
Esqueda has also been impressed by the growing partnership between the different law enforcement agencies in the county. The overtime for the emphasis patrols are paid for by grants. Esqueda said the program has helped increase communication and partnerships with the different departments. She has especially been encouraged by the willingness of the Yakama Nation tribal police to be part of the emphasis program.
Esqueda said the law enforcement emphasis traffic patrols are making a difference. She said more people are becoming more aware of the need to wear a seatbelt or take their time driving.
Washington State Patrol Sgt. Ed McAvoy, who oversaw this weekend's emphasis patrol, agrees with Esqueda.
"We are seeing more and more percentage of people wearing their seatbelts," said McAvoy.
McAvoy had a notable statistic to share. In the last year, 51 more people in the state are alive because they wore their seatbelts than the previous year.
"Seatbelts are saving lives," said McAvoy.