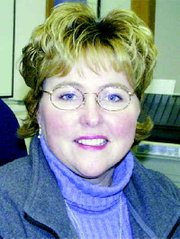 M'liss Bierlink will be leaving her position as financial officer with the Sunnyside Port District to join her husband, Ken, in his construction business as of July 9.
"Our business has grown so much in the past five years, that the company bookkeeping is more than one person can handle," she explained.
Bierlink, who has been honored five years in a row for her talents with finances, has been the Port's financial officer for the past 11 years.
For five of those 11 years, she has be been one of three state port financial officers to be awarded the Washington Public Port Association's Comprehensive Annual Financial Report Award. As the port's chief money person, Bierlink oversees an $8 million budget.
"It was a tough decision to resign, but it's a decision I had to make," she said.
"I've loved working for the Port Commission and the Port staff," she said.
She also hopes to eventually open a small gift shop.
The Port is now advertising for a replacement for her.