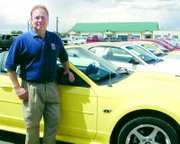 Cars are in Dan Denchel's blood, but motorcycles are his passion.
His grandfather and father were both car salesmen. His brother Tom Denchel has a dealership with locations in Sunnyside and Prosser. And the first of the year Dan bought into the company, joining his brother as the general manager of the business.
"I guess you could liken it to the family farm," said Denchel.
Denchel has worked for his brother in the car business in the past. For 12 years he worked in the car industry, until 1992 when he bought Sunnyside Honda located on Yakima Valley Highway.
"We'd just opened up the corner used car lot (Sixth Street and Yakima Valley Highway) when I purchased Sunnyside Honda," said Denchel. "At that time I was disillusioned with the car business."
Purchasing Sunnyside Honda was a way for Denchel to pursue his passion.
"It's always been a passion of mine," said Denchel. "I love motorcycles, riding them and racing them."
With so many trends in bikes coming and going, right now the push is toward street bikes, he said.
Since becoming partners with his brother, Denchel has been dividing his time between the Sunnyside and Prosser car dealerships and Sunnyside Honda.
He said the key is learning to turn loose of control and turn it over to people you trust.
"In doing it I've actually found extra time for myself and my family," said Denchel. "It's all about having good people."
Partnering with his brother, Denchel said that Tom has provided him with a lot of wisdom gained from 37 years of experience.
As partners, the two split the tasks that Tom once did on his own.
"It's freed him up some, too," said Denchel.
As the general manager, Denchel oversees the department managers for the business. He said he also buries his head in the financial statements of the business.
His sons enjoys their dad's new career in cars, especially 5-year-old Matthew, who likes to see what car dad is driving home each night.
Denchel said that taking on the new business venture would not be possible without the support of his wife Michelle.
"I wouldn't have done this without her support," he said.
Outside work, Denchel volunteers as an assistant scout master for Boy Scouts Troop #643 in Grandview.
His fourth year with Boy Scouts, Denchel said he sees the program as an insurance policy with his kids that lets him know who his sons are friends with. With everything going on in life he was told the most critical thing is to be involved in his sons' lives every week.
Helping his sons earn merit badges and learn survival skills, he said it's like being a kid again himself.
Denchel is also a member of a long distance motorcycle riding association known as the Iron Butt Association.
Annually, a rally is held and an 11-day, 11,000 mile ride is held. He said 1,000 people will apply to be part of the ride, but only 100 are chosen. He has never been chosen to be part of the 11-day ride. To qualify for the ride, motorcycle enthusiasts have to participate in the saddle sore ride, which is a 1,000-mile trek that's completed in 24 hours.
Members of the group enjoy long-distance rides and travel around the United States by motorcycle. A week ago a member came from Vermont to Sunnyside just to have an auxiliary fuel tank installed, said Denchel.
Renewing his interest in the family car business, Denchel said he hopes one day one of his sons will have an interest in keeping the family tradition going, which is one of the reasons he got back into the car business.
"It's a challenge," he said, "but it's fun."