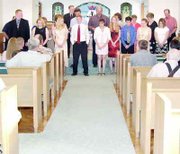 BICKLETON - For the nine Bickleton High School seniors there is a lot of love and support surrounding them.
The class of 2004 gathered with family and friends at the Bickleton Presbyterian Church Wednesday night for the senior baccalaureate.
A time of prayer and celebration, Pastor Michael Clark addressed the seniors on finding "Absolute Truth."
Members of the church prayed individually for each of the graduates as they continue their journey away from the small community and make decisions that will affect their lives.
After a time of prayer, each student was presented a study Bible.
Clark said the graduates have an advantage growing up in a rural community and in Bickleton.
"This is a community that loves young people," he said. "Those prayers came from their heart."
Clark said that the seniors' journey this far reminds him of flying.
"For a pilot many hours of study and preparation are logged before you even get to touch an airplane," said Clark.
He said a pilot then flys with an instructor for many hours before they're ready to fly solo.
"You seniors now are ready to solo," said Clark.
Although it can be intimidating, Clark said it is important.
"You will be the teachers and parents of future generations," he said.
Like in flying, some rules are fixed in life, such as the law of gravity.
"The truth is still the truth," said Clark. "The world will tell you there is no absolute truth. That is a terrible lie and it is a lie that will rob you of life."
Clark said there is absolute truth and it is found in the Bible.
"There is no other book that has ever been written that claims to be the word of God," said Clark. "It has stood the scrutiny of time."
He said that the Bible is God's word and it is very important to know the truth.
"It will change how you live your life," he said.
The world is a beautiful place, but according to the Bible Satan is the prince of this world, said Clark. He added that inside of each of us there is something the Bible calls a sin nature.
"Sometimes we think that people are our enemies, but they're not," said Clark. "Our enemies are Satan, the world system and our own sin nature."
He said that we are constantly bombarded with the message of the world that says abundant life are found in money, possessions and other worldly pleasures, but he said true meaning and true fulfillment will only be found in the message of God.
"The way, the truth and abundant life are found in Jesus Christ," he said.
He said in John 14:6 Jesus said he is the way, the truth and the life.
"He who has the son has life, but he who does not have the son does not have life," said Clark.
The only way to have abundant life, he said, is to invite Jesus into our life as Savior and Lord.
"He will never leave or forsake you," said Clark. "If you truly know Jesus you will know the way, the truth and the life.
"The choice is absolute truth, choose Jesus," he added.