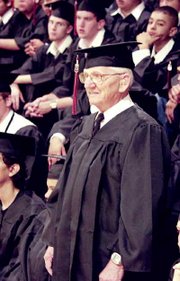 Sitting in a sea of black caps and gowns, Roy Culver looked as nervous as any of the 270 Sunnyside High School 17 and 18-year-olds seated in the Sunnyside High School bleachers for graduation rehearsal.
In the mid-1940s, Culver left school in the middle of his senior year to join the thousands of the American men who enlisted to fight in World War II.
Now 80-years-old, Culver of Kennewick will finally receive his high school diploma from his hometown high school.
Tomorrow night (Friday), Culver, originally a member of the class of 1944, will be presented his diploma as part of "Operation Recognition," said Heidi Hellner-Gomez, Sunnyside High School senior class advisor.
Gomez introduced the former soldier to the 270 members of the Class of 2004 at the recent rehearsal, who applauded his presence. Culver told the class he had asked to walk with them. "I'm very honored to be leading you onto the Clem Senn Football Field for the 8 p.m. ceremony," he said.
"Thank you for allowing me to be a part of this class," Culver told the graduates.
He was presented an SHS blanket and an SHS senior mug, as well as an invitation to attend the senior graduation party following Friday night's graduation ceremony.
Unlike the rest of the class, who must wear their gowns free of any decoration, Culver will be allowed to adorn his graduation gown with his war medals.
Among those medals earned while serving in France, Germany and Czechoslovakia are his American Theater Service medal, the European-African Middle Eastern Service medal, a Good Conduct Medal and his World War II Victory Medal.
Culver, who was sharpshooter with the U.S. Army Company D, 10th Infantry, now lives in Kennewick, where he has been active in the Richland VFW Post for 56 years.
Culver's opportunity to finally receive his diploma is thanks in part to state legislation created two years ago to honor those in the state who were forced to discontinue their high school education due to service in the war.
Culver said it was VFW State Commander Ed Rasmussen who told him about "Operation Recognition."
"He got me the forms and even mailed them in for me," Culver said.
Culver, who retired from the Teamsters in 1980 and from Hanford in 1987, said he is pleased to be walking with the class of 2004.
"They've even asked me to join them at their 10-year class reunion," he said.
"I'll try to be there," he smiled.