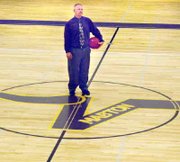 MABTON - As the head coach of the Mabton High School girls basketball team, Brett Simpson didn't win a State title. He didn't win any league titles. In fact, Simpson didn't post a winning league season until this last year, his fifth as coach of the Lady Vikings. Simpson may not have won a championship, but in many ways he did something so much more important than that-he brought life back into what was a dying program and reinstilled pride in Lady Viking basketball.
But now, Simpson, 31, is ready to tackle a new frontier. Simpson will be leaving his position as Mabton girls basketball coach and teacher at Mabton junior high school at the end of the year. Simpson and his family are moving to Curlew, where he will be assistant principal at the kindergarten through 12th grade school.
Simpson is a native of Mabton, a 1991 graduate of Mabton High School. After earning his Bachelor's degree in education from what is now Eastern Oregon University in 1996, where he also played baseball for four years, Simpson found a job interestingly enough in Curlew. He taught in Curlew for three years, but ended up a victim of budget cuts.
But it was at Curlew where Simpson met his wife, Alli. While in Curlew, Simpson coached the junior high school boys basketball program and was an assistant coach for the high school junior varsity boys basketball and baseball programs, all in his first year. His second year in Curlew, Simpson took on the job of assistant high school football coach.
"I was a single man, I had a lot of free time," joked Simpson.
It was in his third year at Curlew that Simpson and his future wife started to get to know one another. Simpson was the coach of the junior high school boys basketball program and his wife was coach of the girls program.
"She was in charge of controlling the kids on the bus," recounted Simpson. "I drove the bus."
Simpson remembered with a slight grin about how the two used to keep one another's stat books and go to the local Texaco for a date after the game.
After leaving Curlew, Simpson decided it was time to come back home to Mabton. He was hired as a sixth grade teacher. Simpson moved to the junior-senior high school in Mabton three years ago, where he has worked ever since.
Simpson earned his administrative credentials last year through the Washington State University Tri-Cities campus. As part of his credentials, Simpson had to go through 720 hours of administrative work, which he had to fill in around teaching, coaching and his family.
In 1999, Simpson was hired by then assistant principal/athletic director Casey Gant to resurrect the Mabton girls basketball program.
Simpson and his wife took over the reigns of the program. Simpson's first year saw the Lady Vikings go 0-20 in the 1A South Central Athletic Conference, but the team kept making small improvements each game. The next year marked a milestone for the Mabton program. In one of Simpson's two most memorable games, the Lady Vikings ended a 31-game losing streak with a victory over Wahluke. Two years ago, Mabton dropped down to the Greater Columbia 'B' League, where the Lady Vikings finished the last couple years with 8-12 records. The Lady Vikings had their first winning league season in a while this past year, going 7-6.
The Lady Vikings, though, play in one of the toughest girls 'B' basketball divisions in the state with the likes of Sunnyside Christian, Riverside Christian and LaSalle.
It was Simpson's last game that proved to be his most memorable. In what can be easily termed a classic, the Sunnyside Christian girls basketball team survived Mabton on their home court. But it wasn't the actual game that Simpson remembers most, but rather what happened afterwards, that still sticks with him and his players-the Lady Vikings finally got their respect.
"They stood up and gave us a standing ovation," said Simpson of the crowd that filled the gym at Sunnyside Christian. "That meant so much to me and the girls. That meant a lot for me for those girls to hear that."
Simpson said he walked into the locker room and his players were amazed that the crowd reacted like that to them after so many years of being told that they were a horrible team.
"They applauded for us at the end of the year," added Simpson. "I will always have that."
Simpson said he never thought about leaving Mabton until he was approached by people in Curlew after the basketball season to take the administrative job.
"I honestly thought I was going to be back coaching basketball next year," said Simpson.
Simpson said he is taking the opportunity in Curlew because people don't receive many chances like this one.
One of the things that Simpson hopes he left his players and students with is certain life lessons and the power to believe in themselves.
"You can do whatever you want to as long as you believe it," said Simpson. "The mind is a powerful tool."
Simpson said he was driven to stay with coaching even through all of the less than stellar years in Mabton. Simpson remembers playing for then Mabton boys basketball coach Andy Affholter and all of the success the Vikings had under him.
"I wanted these girls to have that same success," said Simpson.
Simpson said his players taught him a lot about being able to care about your team and the ability to learn to take small steps when times are tough.
The foundation of the Mabton girls basketball program has hopefully been put into place, said Simpson. Simpson said whomever they hire to replace him ought to be able to come in and experience success.
"If I have done a good job here of laying the foundation for these kids, they should be successful. I am excited for next year to see if I left something for these girls," said Simpson.
His advice for a coach who is heading a struggling program is to stick with it. Simpson has etched in his mind a famous quote on a poster of Michael Jordan's when he played for the Chicago Bulls that he always keeps in mind.
"I've missed more than 9,000 shots in my career," the poster reads. "I've lost almost 300 games. 26 times, I've been trusted to take the game-winning shot and missed. I'VE FAILED over and over and over again in my life. And that is why I SUCCEEDED!"
"Five years ago, I looked at myself as a failure because we weren't winning," said Simpson. "In all those failings I think to some degree I have succeeded."