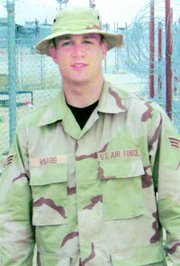 Former Sunnysider Sgt. Jason A. McNabb is returning home to Guam just in time to be with his wife on their first wedding anniversary.
McNabb, a 2001 graduate of Sunnyside High School, has been serving in Kuwait since the first of the year, but flew back to the United States yesterday and leaves today (Friday) for Guam, according to his sister, Traci Brown.
His family in the Lower Valley won't get to see him, and Brown said they are actually unsure of the next time they will see McNabb.
McNabb is a certified drafting civil engineer for the Air Force. He attended school at Luke Air Force Base in Phoenix, Ariz., which is where he met and married Sgt. Crystal Woods of San Diego, Calif., said Brown. His wife is also serving in the Air Force.
The couple was married July 7, 2003 and are stationed at Anderson Air Force Base in Guam.
McNabb is the son of Marcia Schaneman of Sunnyside and the grandson of Keith and Alice Fansler of Outlook.
McNabb is about halfway through a six-year term of service.