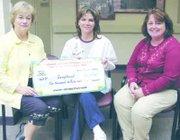 Sometimes the difference between seeking a lifesaving medical treatment is the difference between the cost of buying groceries for one's families and the cost of the treatment. Most uninsured women will buy the groceries.
But thanks to the efforts of the Soroptimists of the Lower Valley, more low income women will be getting a free mammogram, the first line of defense in the detection of breast cancer.
This past week, Soroptimists leadership presented a $6,000 check to the Sunnyside Community Hospital's mammography department's free fund.
The money was part of a grant awarded to the Lower Valley business women's group by Yakama Legends Casino, explained club co-presidents Sue Newhouse and Sharon Sheppard.
"We decided to seek the grant after reading about the casino's offer to fund local programs," said Sheppard.
She said the Soroptimists mammogram program was one of 62 programs awarded funds by the Toppenish casino's charity program.
The Soroptimists have been donating money to the Sunnyside Community Hospital's mammogram department since 1995. "We usually contribute about $2,500 from our fund-raising efforts," said Newhouse.
"We're excited to be able to donate that, plus this additional $6,000 to the program," she added.
The mammography fund serves people of the Lower Valley who do not have health insurance and could not otherwise afford the cost of a mammogram, explained Coleen Goulet of the hospital radiology department.
She said during the past three years, the mammogram fund has benefited more than 100 women.
"We have had positive feedback from patients and physicians who have taken advantage of the charity fund," said Goulet.
She said the average cost of a mammogram is about $100.
"With the grant money we will be able to serve 60 uninsured women with the necessary screening," she said.