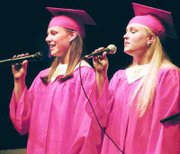 More than 30 graduates marched their way into the Sunnyside High School auditorium Thursday night dressed in their red and black robes with their mortarboards placed stoically on top of their heads. The members of the class of 2004 were ready to celebrate their coming accomplishment, as well as recognize the role God has played in their lives.
During the baccalaureate ceremony the students listened as their classmates read passages from the Bible, sang together and listened as pastor of the Free Methodist Church, Mike Henry, gave the sermon. Also, Sunnyside School Board member Bill Smith presented his charges for the class.
Before Henry started his address to the class of 2004, he congratulated them on having accomplished one of their goals.
"Graduating from high school is one of the important steps," Henry told the graduates. He noted that it is the step that leads to either getting a job or heading off to college.
"I hope you go on to accomplish great things in your life," he said.
However, Henry went on to explain that accomplishments are relative, depending on how a person measures success. He explained that he had one friend in his life who finished school and decided he wanted to keep surfing, so he got a job making dentures, which gave him the time and the money to keep doing what he loved. However, he had another friend who went on to become the manager of a commercial real estate corporation in downtown Seattle. Henry told the graduates that both men had accomplished success, just in different ways.
"Their motivations were very different," Henry said.
He said his motivation was also different, taking him down a completely different path in life. Henry told those in attendance that at the age of 13 he received God's call in his life. From that point on he knew his life would be spent serving God. This meant that in college he went on to study religion and Greek, which he said led to spending hours and hours studying.
"I had that motivation and calling," he said. "I was interested in learning."
But, Henry said he also recognized that he would have to balance all of his studying with other, more adventurous activities. He said he went on to take up everything from mountain climbing to skiing. Henry also found himself on the rowing team, where he met two people that would ultimately inspire him. He had two teammates, one very athletic guy who ultimately died of leukemia, and another unlikely rower, who was a cowboy from Wyoming. When one teammate died of leukemia, he asked the other to try out for the Olympic rowing team. Henry said not only did the cowboy say he would try out, but then he actually did it. He made the Olympic team and went on to become a rowing coach at one of the east coast colleges.
Henry explained that it was because of a challenge God put in front of his teammate, that the unlikely rower went on to become an Olympic athlete. He said that one moment, when he promised his dying friend that he would try out for the team, ultimately changed his life.
Henry then looked to Proverbs 3, which talks about the importance of trusting in God.
"As you trust God, he will show you the way," Henry said.
He told the graduates that God will help them each plan their lives.
"Don't say no to surprise challenges that God may put in your path, because it will open avenues," Henry said.
Henry concluded his sermon by asking God to bless all of the graduates of the class of 2004.
Smith then took the podium to charge the graduates, offering them challenges and things to think about in the coming days. He charged them to create a basis of belief, to listen to the prompting of the spirit and to serve their fellow man.
The service concluded with the class of 2004 singing together, then bowing their heads to say one last prayer together.