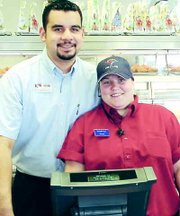 Admittedly a fanatic about neatness and cleanliness, Alex de la Cruz is forever straightening, wiping down and admonishing his crews to do the same.
Even his wife Audrey, who works along side him at the couple's Sunnyside Kentucky Fried Chicken/A&W franchise, admits he can be a little obsessive about cleanliness.
"He always has a damp cloth in his hand wiping down tables or counters," she smiled.
But in the food business the couple agrees that things can never be too clean.
"I just like to have things neat and organized," said de la Cruz.
But having things tidy and spotless inside his restaurant isn't the only place where de la Cruz's orderly nature can be observed.
The couple's dedication to orderliness and neatness have earned them the Sunnyside Chamber of Commerce 2004 Outstanding Community Beautification Award. The award was given for the outward appearance of their Yakima Valley Highway restaurant, which was opened in October 2002 at its present location. But passersby would never know the eatery is already two-years-old. The exterior of the colorful building is, if anything, more attractive than it was when the couple held their grand opening.
"I like keeping the outside as inviting as the interior," said de la Cruz.
"It's a matter of pride in ownership," he said.
The Sunnyside couple, who have been in the restaurant business for eight years, began their career as managers of the downtown Sunnyside KFC restaurant. The restaurant had been at that location for more than 30 years. It was in need of updating, but more importantly to the young business owners was the need for expansion.
"We needed more room," he said.
With the decision to expand came the decision to relocate their restaurant. A new KFC restaurant was built away from the downtown area and with it came an A&W franchise. The decision gives their customers additional menu choices.
Today, the twenty-something couple employ 25 people, working full and part-time at the restaurant.
"We hire a lot of high school kids, giving them an opportunity to learn how to be good employees," la de Cruz said.
"Every one has a hand in keeping the business clean," he added.
In addition to his dedication to his business, de la Cruz finds time to serve on the Sunnyside City Council, as its youngest member.
Today, he and his wife, who helps manage the family business, also have two children, a 6-year-old son and a 4-year-old daughter.
"We get along well as co-owners and managers," she said.
"His strengths are my weaknesses and my strengths are his weaknesses," she explained.
The young couple said they were shocked to be named as the Chamber's choice for the beautification award.
"It is a great honor," he said. "We love our business and can't imagine working anywhere else," he said.