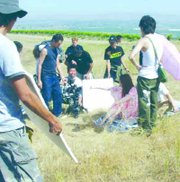 As Pacific Northwest cherries begin arriving on the shores of Taiwan in about two weeks, another production from the area will also be getting ready to debut. Last week, Northwest Cherries, an organization that represents cherry growers in the three Northwest states, brought a video crew from Taiwan to shoot a music video that will help promote the fruit in that country, which has been the number one export market for Northwest Cherries for the past five years.
While in the Sunnyside area the video crew spent some time shooting scenery just south of Mabton, spent a day filming in a Grandview cherry orchard and spent some time shooting scenes on Cherry Hill in Sunnyside.
Sean Gilbert with the Washington State Fruit Commission said bringing a crew in from Taiwan to shoot a music video is not a new idea. This marks the sixth time Northwest Cherries has done this sort of campaign. He explained that the first year they did it the singer who was featured in the video, Gigi, became a huge star. Now, he said, they have no problem finding a singer who is willing to do the promotional music video.
According to Gilbert, this is the second year singer eVonne has served as the Northwest Cherry recording artist. He said last year both her song and the music video were number one in Taiwan.
Gilbert said the music eVonne sings in the video is best described as light pop, with the main verse literally translating to "I want to sing a song to you."
However, simply being in the Northwest Cherries music video isn't the only responsibility of the recording artist. Gilbert said once the video is released the artist does personal appearances promoting both the video and the fruit.
"It's a good deal for us," Gilbert said, noting that the money that is spent on producing the video leads to endless air time as the video runs in Taiwan, as well as the additional promotions from the personal appearances the artist does.
Gilbert said one of the biggest challenges that comes with finding a recording artist for the Northwest Cherries music video, is finding someone who can travel to the United States during the first week of June, which is just before cherry harvest traditionally begins.
Gilbert explained that once the video is shot, it should take a couple of weeks to edit it and get it ready to air, which means that the video is ready at approximately the same time as the first shipments of Northwest Cherries make it to Taiwan.
According to Gilbert, since the Northwest Cherries music video campaign was started six years ago, Taiwan has gone from being the eighth largest cherry market to being the largest.