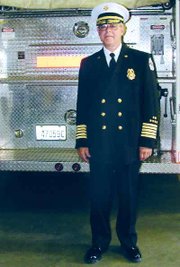 He is chief of the largest fire district in the state, but right now Mark Kimm is busy, anxiously awaiting one special night he can spend with his wife, Ellen.
Kimm, who lives in Sunnyside, is set to retire at the end of June as chief of Yakima County Fire District #5, the largest such entity in the state. Kimm is planning to retire and move to the Spokane area.
As fire chief, Kimm, 55, oversees 700 square miles of land. He is in charge of 21 full-time employees and 225 volunteers who man 16 fire stations throughout the region. Kimm's department also handles all dispatch services for all fires in the Lower Valley.
Kimm is originally from Wenatchee, but grew up in Harrah, where his father was a school principal. A year after being discharged from the military in 1971, Kimm joined the volunteer fire department in Harrah.
"After I got out of the service, I missed the excitement," said Kimm as to why he joined the fire department.
Kimm also said his father-in-law and brother-in-law, who are both firemen, were instrumental with him becoming involved in the field.
Kimm fondly recounted how the recruitment methods for joining the fire department have changed over the years.
"At that time, all you had to do was be a breathing, living person," joked Kimm. "It was all on-the-job training."
From 1971-1985, Kimm worked as a manager at a juice processing plant in Harrah, where he oversaw 75 employees. Kimm remembers being pulled away from work many times to fight a blaze.
Kimm's life took a dramatic change in 1985 when he was hired as a zone chief for the county's fire station in Sunnyside. Kimm stayed in Sunnyside until 1991, when he became the assistant chief for Yakima County Fire District #5. Kimm recalls with much fondness the times he spent in Sunnyside, splitting his efforts as a volunteer fireman with the Sunnyside Fire Department and the county. Kimm took over the reigns of the county fire district in 1995. He is one of only a handful of men to hold the job of chief since the district formed in 1948.
Kimm never thought he would get the opportunity to be a full-time firefighter. Kimm said he thought he would have to be a volunteer the rest of his life.
"It is kind of like playing minor league ball and then you are called up one day," said Kimm. "I never thought I would get the opportunity to be a full-time firefighter."
During the last 33 years, Kimm has seen just about every big fire that has happened in the county, whether as a volunteer or a paid firefighter. Kimm's job has also brought its dangers. During his career, he had a pipe fall on him and fracture his eye, resulting in the chief having to undergo plastic surgery. He has been thrown from roofs by fire blasts and has been in fire trucks that have rolled. But through every thing that Kimm has seen, the most rewarding part to his job has been saving someone's life.
"That has been the most rewarding part," said Kimm. "It is a dangerous job. I just like being able to help people."
When asked what it is like to save a life, Kimm simply says he doesn't know.
"You don't think of it that way," said Kimm. "It is rewarding. It (saving someone's life) is just a nice thank you for a job well done."
Kimm has several accomplishments he speaks proudly of during his tenure. Kimm talks highly of how the equipment for the fire district has been upgraded. Kimm and his staff obtained a $700,000 grant to upgrade the department equipment. There have also been several new construction projects, including a new maintenance facility and a new fire station in White Swan. Kimm is also pleased with how the training has improved for firefighters and volunteers. He is also proud of the swift water rescue team that was formed to rescue people trapped in the Yakima River. Kimm is also proud of the fact he has never had to turn to patrons in the fire district to ask for additional funding for projects. Kimm has managed to maintain the $3 million operating budget gained from residential taxes in the fire district since he came aboard.
Kimm, though, is the first to point out he couldn't have done what he has done without his staff.
"The fire chief steers the boat, everyone else makes it go," said Kimm. "It is going to be an emotional day when I say goodbye to all these wonderful people. I have been able to do something I love and I have got to go to the top. It has been a real pleasure to be fire chief. I have a lot of pride in the fire district."
Kimm said it is going to be a big relief when he closes the door to his office in the Zillah station for the final time on June 30.
"I constantly worry," he said.
Kimm said he always worries about his crew when they go to a call.
"When our fire district has a fire, it usually is a major fire," said Kimm.
Kimm said the worries that go along with being chief have been very overwhelming at times, and he is looking forward to his retirement.
After 33 years of being constantly on call, rushing away at a moment's notice, Kimm is ready to give a little bit back to the woman who has stood by his side throughout it all. Kimm said his wife, who works at Bob Hall Financial, and him have been working for numerous years on building a retirement nest egg. Kimm and his wife decided about a year ago it was time to retire. Kimm said he has been a very active fireman over the last 33 years, which has taken time away from his wife and their two daughters and the rest of his family.
"To be active you are very inactive with your family," said Kimm. "I have given 33 years of service to the community, now I am going to give 33 years of service to my family."
Kimm does have a very special day planned for his wife that he doesn't plan to miss because of an emergency. Their informal date involves something Kimm missed last time because he had to rush away to a call during a power outage caused by the event in question.
"I want to spend the next lightning storm we have with my wife," smiled Kimm.