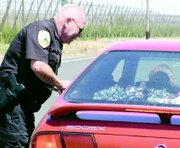 MABTON - Friday afternoon, representatives from police departments throughout the Lower Valley, including the Washington State Patrol and the Yakima County Sheriff's Office, joined forces to help ensure that residents of the Valley are wearing their seatbelts. The seatbelt emphasis patrol meant there were officers out patrolling the streets until 8 p.m. doing nothing more than traffic enforcement, specifically looking for people who were not wearing their seatbelts.
In June 2002, Washington state law changed, making a seatbelt violation a primary reason for a law enforcement official to pull over a vehicle.
Mabton Police Department Senior Officer Mike Britton said even though the emphasis patrols, like the one conducted Friday, offer many benefits, for a small department like Mabton it can also offer a few challenges. He explained that Mabton is normally a one police officer town, meaning that there is usually only one police officer on duty at a time, with Saturday being the only exception. He said Saturday there are usually two officers on duty.
"We don't have the manpower other, larger agencies do," Britton said.
This means that when the department participates in an emphasis patrol the officers who take part will typically do it before or after they work their normal shift or they will come in on their day off to work the emphasis patrol.
On the other hand, Britton said the emphasis patrols also offers some advantages for smaller departments. He explained that in a small agency like Mabton's, where the perimeter of the town is so small, an officer can typically patrol the entire community in 20 minutes. Britton said an emphasis patrol will let the officers break out from that perimeter.
"It gives the officer more experience in working the road," Britton said.
He said it also means that the officers get a chance to deal with people outside of their community, people they don't usually have a chance to interact with.
"In Mabton if you pull over six people, it is likely you will know five of them," Britton said.
He added that taking part in the patrols also means that officers have a chance to become familiar with the area outside of their community.
"It helps you get to know the area better," Britton said. Although he noted that when doing an emphasis patrol it is important not to lose track of where you are, which is easy in an area an officer is not used to patrolling.
Britton said when an officer is taking part in an emphasis patrol, their duties are a little different than if they were simply on duty for their department. He said they are strictly out to enforce traffic laws, which means they don't respond to other calls that come into the department. There are other officers on duty who do that. Instead, during an emphasis patrol they stick to patrolling traffic in the area.
During Friday's patrol, Britton said officers were supposed to be conducting three stops an hour. Britton explained that this was a challenge because seatbelt emphasis patrols take place during the day when other drivers can see the police car coming. Friday afternoon, during a two-hour period Britton managed to stop four cars, pulling over one for not wearing a seatbelt and the others for traffic violations.
Britton said even though emphasis patrols often mean sticking to enforcing traffic laws, it's stops like those for a burnt out headlight that can often lead to bigger things. He said there was one time he pulled over a car for having a taillight out, that ended up arresting someone on a warrant for black cocaine out of West Virginia.
Although the emphasis patrols can be a lot of work, Britton said he feels they are effective. He said when the seatbelt law first went into effect the Mabton Police Department hit Mabton really hard for about three weeks, letting people know the importance of wearing their seatbelts. Since then, it hasn't been much of a problem in the community. In fact, Britton said at one point Mabton Police Chief Raul Almeida asked the officers why they weren't issuing more seatbelt tickets. He said the chief asked them to go out and perform an observation emphasis to see if people in the community were wearing seatbelts. Britton said out of about 300 cars they counted there were only two or three who weren't buckled up.
"People picked it up really quick," Britton said.
. Elena Olmstead can be contacted at (509) 837-4500, or e-mail her at eolmstead@eaglenewspapers.com
Elena Olmstead/Daily Sun News
Mabton Police Department Senior Officer Mike Britton took part in the Lower Valley seatbelt emphasis patrol Friday afternoon. Law enforcement officers from throughout the Valley were out enforcing traffic laws and looking for people not wearing their seatbelts.