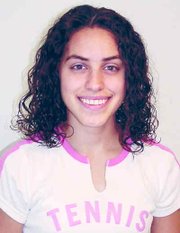 When Sunnyside High School graduate Deann Trautman had more than a foot of her hair cut off Wednesday afternoon, her reaction told the story.
"Oh my gosh," she whispered as the scissors cut through her ponytail. Then she put her hand over her eyes as her hair went from trailing down her back to dusting her shoulders.
But Wednesday's haircut wasn't just a change in style for Trautman. It also marked a contribution to a worthy cause. Trautman had her hair cut in order to donate it to Locks of Love, an organization that provides hairpieces to disadvantaged children who have lost their hair due to medical reasons.
Trautman said she first heard about the organization through stylist Amy Anderson, who has been cutting her hair since she was 10 years old. After hearing about the organization, Trautman and her mother, Denise, got on the internet and learned more about Locks of Love.
Trautman said she first started to grow out her hair in the eighth grade. She noted that when she started her hair was just about shoulder length.
"And I just let it grow," she said.
However, it wasn't until just a year or two ago that Trautman made a conscious decision to let her hair get even longer and eventually donate it to the non-profit organization.
Hair donated to Locks of Love has to be at least 10 inches long, and Anderson pointed out yesterday that Trautman's long hair more than fit the bill.
For Trautman, getting her hair cut and graduating from high school within the span of a week isn't a coincidence. She said she wanted to get it cut right after graduation.
"To get a nice start after high school," Trautman said. "Just to look different and feel different."
Trautman didn't stop her new look with just a haircut. She also asked Anderson to perm her chestnut brown locks.
For more information on Locks of Love and to find out how to donate to the organization, visit their website at www.locksoflove.org.