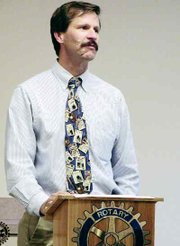 A good old-fashioned game of baseball, 25 cent hotdogs and fireworks are images that spring to mind when a person begins to think of things that are traditionally American. And June 21, during the Yakima Bears home opener, these are things that everyone in attendance will have a chance to be a part of.
Bob Romero, general manager of the Yakima Bears, told members of the Sunnyside Daybreak Rotary Club Wednesday morning about some of the promotional things the organization does during the season, including fireworks at their home opener and crazy games between innings.
Romero said their goal is to get those people who regularly attend one game during the season to attend two, and those who normally go to three or four games to go to five or six during the season.
Romero noted that Yakima is the smallest market in the league, playing against teams from places as large as Vancouver, which has an audience of a million people to draw from.
"It's a night and day difference," Romero said of the amount of people between Vancouver and Yakima.
Despite being a small market, the Yakima team, which is an affiliate of the Arizona Diamondbacks, obtains some quality players. Romero said this year the team is expecting to get 15 to 16 players coming up from extended spring training in Tucson.
"We expect to see a lot of those college guys," Romero said. "We should be a good team and it should be a fun summer."
Romero said for many of the players, being a Yakima Bear this summer will be their first time playing professional baseball. He said it takes them some time to get used to the daily grind, playing 76 games in 80 days.
"This is their job," Romero said.
He said another challenge for the players is the fact that the Bears play in a tough league.
"A lot of them will come here and deal with failure for the first time," Romero said.
He added that of the 30 players that make up the team, on average two or three of them will eventually end up playing in the major leagues. Romero said there are currently 14 or 15 former Bears playing in the major leagues.
"It's the spring board where they kind of launch their careers," Romero said.
Although it is merely entertainment for the fans, the Yakima Bears organization is also a business. Romero said the organization is an independent business affiliated with the Diamondbacks. One of the challenges that comes with operating a business like the baseball team, is that it only has 38 days a year to attract customers. He said it's a discretionary business, explaining that coming to a baseball game is not something people need to do. He said there are also other challenges that come into play, like weather and the players the team gets. The players are chosen by the Diamondbacks organization.
Teddi Fowler, director of ticket and group sales, told Rotarians that there a lot of different ticket options for those who are interested in attending Bears games this season. She said one of those options is to purchase a book of 10 general admission tickets for $32. She said the tickets can then be used for any of the games. Fowler said another popular option is a book of undated vouchers for reserved seats at the stadium. She said the vouchers can then be used at any game during the season and more than one voucher can be used per game.
Romero added that keeping ticket prices affordable is important to the organization.
"I believe the important thing about minor league baseball is keeping it affordable for people," he said.