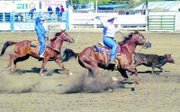 Sunnyside High School senior Ty Baggerly has been riding horses since he was old enough to walk. Later this month he will have a chance to showcase the talent he has been working all his to hone. June 29 through July 4, Baggerly will be competing in saddle bronc riding events in Falon, Nev., before going to the national high school rodeo in Wyoming for team roping with Taylor White of Prosser.
Baggerly said taking part in rodeo events, especially roping, is something that runs in the family.
"I was just raised around it," he said, noting that by the age of three or four he was out there roping anything that would move.
For Baggerly, formally competing in roping competitions wasn't something he did until he was about 10 years old. He said he would compete in different rodeos, traveling everywhere from Nevada to Van de Graaf ranches in Sunnyside.
However, roping isn't the only event in which Baggerly is involved. He also does saddle bronc riding, which is something he started back when he was six or seven years old. Baggerly said he first life started riding calves when he was younger, graduating to steers when he got a little older and bulls when he was about fifteen. Baggerly said bull riding then switched to saddle bronc riding.
"I just decided it was time for a change," he said. "I got hurt a lot."
Baggerly said one of the biggest differences between bull riding and saddle bronc riding is that the horses he rides aren't trying to kill him. He said saddle bronc riding also calls for a little more skill and a more precise technique.
Even though Baggerly has been taking part in rodeos for years, this past year was the first time he has taken part in Washington State High School Rodeo Association events, which is how he qualified for both the rodeo in Nevada and nationals in Wyoming.
He said his brother had taken part in high school rodeo events and had told him how much fun it was, so Baggerly decided it was something he needed to try.
Taking part in the high school rodeo events has kept Baggerly busy. He said he attended three rodeos in the fall and eight in the spring, taking part in the State finals in Ellensburg just recently. It was his performance at the high school rodeo finals that led Baggerly and his partner to qualify for nationals in Wyoming.
Baggerly said he was nervous the first time he went into the arena in Ellensburg. But when it came down to competing, he went into it with an attitude that regardless of if he won or lost it had been a good experience. In the end, his roping team placed third and won a slot in the national event.
Baggerly said he is now getting ready to head off to the competition, going out and roping for two to three hours a day, as well as practicing for saddle bronc riding. Baggerly said he also goes on a two or three mile walk every morning.
"You can't be out of shape to do this sort of stuff," Baggerly said.
Once Baggerly gets to Nevada and Wyoming, he will be competing for a variety of prizes, from saddles and buckles to scholarships.
To raise money to get Baggerly and White to the national competition, there will be a roping benefit and barbecue Saturday, July 10, at Van de Graaf arena in Sunnyside. A fee will be charged to take part in the roping competition and the barbecue dinner will be $7 a plate. For more information on the fund-raising event call Sylvia Baggerly at 830-6188 or Sharra White at 786-4666.