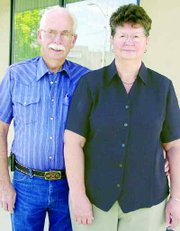 MABTON - Long-time Mabton couple John and Darlene Comstock will serve as the grand marshals in this year's Mabton Community Days Parade.
This year's parade will begin rolling down the streets of Mabton at 11 a.m. Saturday, June 12.
The Comstock's have been residents of Mabton ever since May of 1963. They are now both retired.
Darlene's family moved to Mabton from Grandview in 1938. She attended Mabton schools all 12 years, graduating with the Mabton High School class of 1956. Mrs. Comstock went on to work in banking for 29 years, 15 of which was at the Mabton bank.
Mr. Comstock's family was originally from Richland. They moved to Mabton in 1951, but relocated two years later to Prosser, from where he graduated with the Prosser High School class of 1955. Following graduation he served in the U.S. Army for three years.
In September of 1959, the two were united in marriage. Nearly four years later, in May of 1963, the couple moved back to Mabton, and have lived there ever since.
Mr. Comstock worked a combined 26 years for both Yakima County Fire District #5 and the City of Mabton Fire Department. Many Mabton bird and big game hunters remember him as their hunter education teacher, having served in that capacity for 11 years. He was also a CPR instructor in the Mabton community.
The lively, handsome couple will be waving to friends and well-wishers from a convertible in this year's parade.
Parade organizers report that all who plan on marching in this year's parade should begin gathering at 8 a.m. Saturday morning at Artz-Fox Elementary School. Judging will take place at 10 a.m., with the procession scheduled to begin at 11 a.m.
Following Saturday's parade, all Lower Valley residents are invited to gather at the Mabton city park, where food, game and arts and crafts vendors will have booths and displays set up.