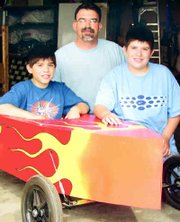 Building, designing and working on soapbox derby racers has become a family affair for the Rodriguez family. Raul Rodriguez and his two sons, 12-year-old Anthony and 10-year-old Jeromy, have been building racers together for the past three years. To date they have two completed cars and two cars that are still under construction.
Raul said the first car they built together was intended for use by both Raul and Anthony. He said he didn't have a specific design when he set out to build the car. However, when asked about it he can pull out detailed schematics he put together that show the car from different angles. He said he had originally wanted a car that looked like a hydroplane racer, but in the end it turned into something that looks more like a super modified race car.
"I wanted it as wide as I could make it and really long, so it wouldn't tip over," Raul said. He explained that he wanted to make sure he had a stable car.
"I'd be dead if he (Anthony) fell over," Raul laughed, looking at his wife Ruth, who nodded in agreement.
When it came to a paint job on that first car, Raul did just what his children wanted. He applied a coat of bright yellow paint to the wooden car, then went to work adding the details that would turn it into Pikachu, a character from Pokemon cartoons.
It wasn't until after the family had gone to a couple of soapbox derby races, including the events in Sunnyside and Grandview, that they decided on a design for their next car. Raul said the new design, which is shaped like a marquee-cut diamond, is a lot lighter and faster than the boxier car they first built.
"Most soapbox derby cars are pointed in the front and back," Raul said.
The second car, which features a bright red flame, was built specifically for Jeromy to race. To date, Jeromy has two first place finishes and two third place finishes to his name. Anthony said the reason for the third place finishes was typically because Jeromy would end up racing a three-wheeled derby car, which is usually faster than the four-wheeled varieties.
Raul said he and the boys have been working on two new cars, one three-wheeled derby car for him and a new teardrop-shaped car for Anthony. Raul said Anthony's car will be ready in time for Sunnyside's sixth annual Soapbox Derby coming up in July. Raul said in their spare time the boys have helped quite a bit with the new cars. Anthony cut out the body of his own car, and Jeromy has been helping out, as well.
The body of Anthony's car is nearly complete, and Raul said the brakes have been installed and the cables that steer the car are ready to be attached. Raul explained that soapbox derby racers typically use a cable and pulley system to steer, even though not much of a turning radius is needed.
"The whole thing is just to go straight in soapbox derby racing," Raul said.
Raul is also planning on doing something a little different with Anthony's new car. He said instead of putting a wooden skin over the framework of the car he is planning on using sheet metal, which will make the racer more durable.
Raul said together his family probably has about 30 hours of work in building Anthony's new car. He said by the time it's finished they will have put in about 40 hours of work.
Anthony said he first got interested in participating in soapbox derby races after going to races and seeing all of the cars.
"They looked cool," he said.
For Raul, building soapbox derby cars takes him back to when he was a boy. He said he remembers building cars like the soapbox derby racers he's building with his sons back when he was child, only they weren't for racing.
"It was just for fun," he said, noting that he would play with them around the house.
The Rodriquez family will debut their new car at Sunnyside's sixth annual Soapbox Derby race, set for Saturday, July 3, at Central Park. The registration deadline to take part in the race is Monday, June 21, and registration forms are available at the Sunnyside Parks and Recreation Office, 818 E. Edison Ave. For more information about the race contact the parks and recreation department at 837-8660.