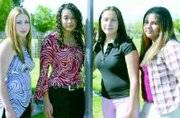 MABTON - Reigning Miss Mabton Sophia Beltran will relinquish her crown tonight to one of four young ladies vying for her title.
The 2004 Miss Mabton Pageant will be held Friday evening at Artz-Fox Elementary School. The doors will be opened to the public at 6:30 p.m., with pageant festivities scheduled to begin half an hour later.
One thing that makes tonight's pageant special is that none of the teens vying for the Miss Mabton title will go away empty-handed. Pageant coordinator Rachel Ruelas said all four young ladies competing for Beltran's crown will represent Mabton in the coming year.
"One will be chosen Miss Mabton," said Ruelas. "The other three will be either first princess, second princess or third princess."
Tonight's contestants will include 17-year-old Marissa Angelique Gonzalez, and 16-year-olds Mayra Miranda Gutierrez, Adriana Maribel Cardenas and Erica Lee Sanchez.
Gonzalez, born in Prosser, is a sophomore at Mabton Jr./Sr. High School, as are the other three contestants. The daughter of Iris and Pedro Lara, she now resides in Mabton with her grandmother, Noemi Gonzalez.
With aspirations of some day traveling the world, Gonzalez said she intends on pursuing a career as a flight attendant. In the present, though, Gonzalez has been active in Mabton's FFA chapter. She also spent time at school serving as the manager of the boys basketball team. Gonzalez lists her hobbies as reading, walking and listening to music. In her spare time, she tends to the needs of her younger cousins.
The 16-year-old Gutierrez likes many of the same things teens her age enjoy doing in their "down" time. Dancing is one of the top things on her hobby list, as are watching movies, talking on the phone with her friends and just "hanging out" with her peers.
Her parents are Cristobal Gutierrez and Alida Miranda.
Cardenas, 16, perhaps is the busiest of this year's Miss Mabton contestants. Not only has she been active playing volleyball, basketball and softball for the Lady Vikings, Cardenas is a member of her school's 3-Sports Athletic Club. In addition, she has just wrapped up serving as vice president of the Mabton sophomore class, and was active in choir and the leadership club this past year.
The daughter of Yadira Escoto and Celso Cardenas, she lists her hobbies as listening to music, singing and "...playing basketball at the green courts."
Cardenas' future plans include attending beauty school during her junior and senior years of high school. "So that by 2006 I can graduate from beauty school and high school," she said. Following that, Cardenas said she'd like to attend Columbia Basin Community College to study dental hygenistry.
Cosmetology appears to be in the future plans of the 16-year-old Sanchez, who right now is leaning towards a career in that field. The daughter of Ricardo and Rachel Sanchez, she, like Cardenas, has been very active at Mabton Jr./Sr. High School. Sanchez is an Honor Society member, and for the past two years has served on Mabton's townhall meeting committee.
Sanchez, too, has played on the high school's volleyball and basketball teams, as well as being a member of her school's drill team. In her spare time, Sanchez enjoys listening to tejano music, watching movies, reading, playing summer basketball and visiting with her friends.
Tonight's Miss Mabton Pageant kicks off Community Days in Mabton. Admission is $3 for adults, $2 for students and $1 for pre-schoolers. A parade is scheduled for 11 a.m. through the downtown Mabton streets Saturday morning, with food and game vendors set up at the city park both Saturday and Sunday.