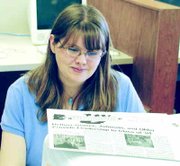 Sunnyside High School teacher Elizabeth Wiederspohn will be taking part in a two-week journalism education workshop in San Francisco to learn all she can for her new role.
Wiederspohn will be taking over the role of advisor for "The Grizzly," the school newspaper at Sunnyside High School.
As part of the training for her new position, Wiederspohn applied for and received a scholarship through the American Society of Newspaper Editors (ASNE) to attend a two-week workshop in San Francisco starting this Sunday.
"I think it will be a lot of fun," said Wiederspohn. "I think it will be a neat opportunity."
Wiederspohn is one of 35 teachers from across the country to be selected to attend the San Francisco workshop.
This workshop will mark the first endeavor into the world of journalism for Wiederspohn, who teaches a variety of business-related classes at the high school, including computers and accounting.
Wiederspohn became the new journalism advisor, which is a regular daily class offered at the high school, after the school newspaper came under a different department. Wiederspohn said the newspaper used to be overseen by the high school English department, but because that department is heading in a different direction, the newspaper now falls under her department.
While she has never taken a journalism class or done anything in the newspaper business, Wiederspohn is going into the workshop with the mind of a sponge, hoping to soak up all she can.
"I really want the experience," said Wiederspohn. "I want the newspaper career to be real to my students."
Wiederspohn is also hoping that she can bring back what she learned at the workshop and relay that information to her students. Her goal for the newspaper is to have it become a publication that the students at the high school take ownership in. Wiederspohn will have 26 students in next year's newspaper class and she is hoping each of them bring a unique sense of what the school is like to the newspaper.
"I want to give the paper a new look," she said. "(I want the newspaper to have) more of students' reflections on what they believe."
As part of her application process to attend the all-expense paid workshop, Wiederspohn had to include a biography and write an essay on the need for journalism with students.
The San Francisco workshop will cover a variety of areas, including journalism ethics, different publishing styles, photoshop and editing. There will be hardly any time to rest for Wiederspohn. The workshops will run daily from 8 a.m. to 9 p.m.
The workshop will feature newspaper editors from across the country, including heads of the San Jose Mercury News, The Oregonian and the Houston Chronicle. Pulitzer Prize winning photojournalist Kim Mimenich will also be on hand.
"They have so much going on," said Wiederspohn. "I am hoping I can bring it all back."