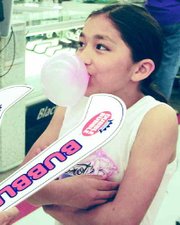 More than 50 Lower Valley children, ages 12 and under, took time Saturday to pucker up their lips and try their hand at blowing the biggest bubble gum bubble they could muster. Saturday morning, Wal-Mart stores across the country hosted the fifth annual Dubble Bubble National Bubble Blowing Contest, which pits kids against kids to determine who can blow the biggest diameter bubble.
Josh Cantu, 12, was one of the children who took part in the contest held at the Sunnyside Wal-Mart store. He said the most difficult part of the contest was trying to keep blowing air into the bubble once it had already gotten pretty big.
For the contest, each of the children who participated were given three pieces of Dubble Bubble bubble gum and told to chew it up and tell the attendant, Rita Edie, when they were ready to start blowing bubbles. After each of the kids had taken 15 minutes or so to chew their gum, a few brave children stepped forward and starting blowing bubbles. The bubbles started off small, but as the afternoon wore on the children gained more confidence and slowly started to blow larger and larger bubbles.
A 10-year-old girl ended up blowing the largest bubble Saturday afternoon. The girl, who entered the contest later in the day, blew a 14-inch bubble and won a chance to move onto the national contest. For winning the local contest she received a Dubble Bubble backpack, a certificate and an official Dubble Bubble bubble meter.
Each of the Wal-Mart stores that took part in the contest will submit their winners to a third-party judging organization, which will determine the top six bubble blowers in the country. The top six children will then get a chance to go the Dubble Bubble National Bubble Blowing Championship, which will be held in late July or early August. Last year's national winner was crowned after blowing a 14-inch bubble. The national winner receives a $10,000 U.S. Savings Bond and a $5,000 donation in their name to the Children's Miracle Network hospital in their hometown.